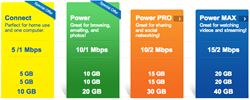 Technology has evolved to the point that consumers no longer need to be limited to only a few Internet providers in South Carolina to access the World Wide Web.
Columbia, South Carolina (PRWEB) September 20, 2013
Computer users frustrated by slow download and upload speeds of their current Internet service provider can now turn to Satellitespeed.net (http://www.satellitespeed.net) with Gen 4 that gives them high-speed connections faster than DSL and most cable providers. Service is available to all counties in South Carolina.
Benefits of South Carolina High Speed Satellite Internet:

Download Speeds up to 15 Mbps
Upload Speeds up to 2 Mbps
Faster Than DSL and Most Cable Providers
Available Almost Anywhere Where Cable and DSL Are Not
Unlimited Phone Calls throughout US and Canada
Does Not Need a Phone Landline
Low Monthly Rate
And much more...
"Technology has evolved to the point that consumers no longer need to be limited to only a few Internet providers in South Carolina to access the World Wide Web," said Ron Legarski of Satellite Speed.net. "We offer connections via a dish that provides both speed and reliability, plus professional service that is a hallmark of our company."
The South Carolina satellite Internet provider is leading a technological revolution that has customers accessing the World Wide Web at speeds as fast as 15Mbps without the need for a phone line or cable set up. That's 500 times faster than dial-up and as much as five times faster than some cable or DSL services. With that kind of speed, users can watch their favorite videos, download the most popular songs, play online games and all other activities that require downloading large files.
While the Gen4 Voice & Larger Bandwidth is recommended for those who want telephone service along with the fastest Internet access in South Carolina as possible, customers can choose from a variety of packages that offer varying Internet speeds at competitive prices to conventional Internet service providers. Customers, who use the Internet only for browsing websites and using email, might opt for a more basic package with speeds of 10 Mbps, or the intermediate Power PRO program, which is more suitable for sharing and social networking.
Businesses in South Carolina that conduct a large volume of video conferencing calls or hold regular webinars will want to consider the Power MAX level, giving them the fastest connection to serve their needs and the ability to handle their corporate communications smoothly. Best of all, the high-speed satellite Internet in SC is especially convenient in remote geographical areas that have relied previously on only dial-up and slow DSL service, and some areas that have no Internet access at all.
South Carolina Satellite Internet service is now available in the following SC counties:
Abbeville County, Aiken County, Allendale County, Anderson County, Bamberg County, Barnwell County, Beaufort County, Berkeley County, Calhoun County, Charleston County, Cherokee County, Chester County, Chesterfield County, Clarendon County, Colleton County, Darlington County, Dillon County, Dorchester County, Edgefield County, Fairfield County, Florence County, Georgetown County, Greenville County, Greenwood County, Hampton County, Horry County, Jasper County, Kershaw County, Lancaster County, Laurens County, Lee County, Lexington County, Marion County, Marlboro County, McCormick County, Newberry County, Oconee County, Orangeburg County, Pickens County, Richland County, Saluda County, Spartanburg County, Sumter County, Union County, Williamsburg County and York County.
For more information on the coverage area for Satellite Internet, please visit:
http://www.satellitedealer.net/south-carolina
In addition to fast connections, Satellite Speed will send a professional installer to your property to ensure that the satellite dish is placed correctly to receive the optimal signal for the best connection to receive satellite broadband service in South Carolina that offers a wide network of coverage, a strong, reliable signal and high quality without a break in connection.
About Satellitespeed.net
Satellitespeed.net is an authorized provider of Gen 4 high-speed satellite Internet service, which provides some of the fastest connection speeds available for both residential and commercial customers. Satellitespeed.net has a variety of satellite Internet plans to serve a variety of needs, from casual website browsing to video downloading and viewing through its Power MAX plan with speeds of 15Mbps and data download allowances of 40 GB.
For more information on satellite Internet and phone service providers, please call toll free and speak with a representative today at 1-877-247-5156 or by visiting: http://satellitedealers.net