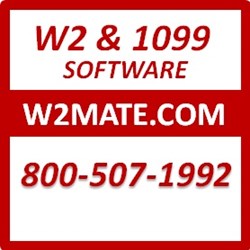 At W2Mate.com, we focus on building affordable and reliable W2 1099 processing solutions for business filers, CPAs and accountants.
Chicago, IL (PRWEB) February 06, 2014
South Carolina W2 and 1099 filing software has been released by Real Business Solutions (http://www.W2Mate.com/). The new system helps employers and payroll service providers follow South Carolina procedures, rules and specifications for submitting w-2 and 1099 information electronically or on magnetic media.
Keeping up with all the W2 / 1099 filing regulations can be a bit overwhelming and time consuming for business filers. That is why W2 Mate was built to be easy-to-use and affordable. W2 Mate is available for immediate download from http://www.W2Mate.com/W2-Mate.html.
Forms W-2 and 1099 are due to the South Carolina department of revenue on or before the last day of February of the succeeding year (February 28, 2014 for 2013 forms). According to Section 12-8-1550(B), if additional time is required to file Forms W-2 or Forms 1099, a withholding agent or payer may request an extension in writing with the Department of Revenue. A DOR approved extension may not exceed thirty days.
W2 Mate 2013 software is trusted by thousands of business nationwide and is available for immediate download from http://www.W2Mate.com/download.html.
EFW2 is the Social Security Administration and South Carolina Department of Revenue's electronic filing record layout for the W-2 data. MMREF is the magnetic media reporting specification for W-2 and 1099. The MMREF specifications are based on the EFW2 records layout.
By integrating with the best-in-class enterprise accounting, tax and payroll applications, W2 Mate provides W2 1099 filers with the ultimate solution for information return and tax form processing for the 2013 / 2014 season. W2 Mate can import data from Microsoft Great Plains, Microsoft Dynamics GP /SL, Sage MAS 90, Sage MAS 200, SAP, Intuit QuickBooks, Sage Peachtree, Sage 50 and many more.
W2 Mate Software Highlights:
Prepares unlimited number of 2013 1099 and W-2 tax forms for multiple employers and payers;
Prints 2013 1099 recipient copies on regular white paper;
Complies with 2013 IRS Specifications for Filing Forms 1099 Electronically and complies with SSA Specifications for Filing Forms W-2 Electronically (EFW2);
Generates ready-to-email 2013 W-2 forms and 1099 forms Which eliminates the need to print and email W2s and 1099s;
SSA approved to print W2 & W3 forms on regular white paper, which eliminates the need for expensive forms ;
Imports data from Intuit QuickBooks (QuickBooks Pro, QuickBooks Enterprise, and QuickBooks Premier), Microsoft Dynamics (GP or SL), Sage Peachtree, Sage DacEasy or CSV/ Excel;
Efficient and intuitive manual W2 / 1099 data entry;
Supports 1099MISC, 1099K, 1099INT, 1099DIV, 1099R, W2, W3, 1096, 1099S, 1098T, 1098, 1099A, 1099B, 1099C, 1099PATR, 1099OID;
Automatically calculates Social Security and Medicare taxes For paper filers 1096 and W3 are automatically generated;
Supports Windows 8, Windows 7, Windows Vista, Windows XP, Windows Server 2003, Windows 2000 or Windows 98;
Roll-over of payer and recipient information from year to year;
Password protection and data validation;
Generates printing labels, form totals and recipient lists;
Prompt, courteous and reliable US-based support through phone, chat or e-mail;
Network ready with affordable pricing for multiple seats;
Exports W2s and 1099s to excel;
Includes 1099 and 1098 filing instructions;
TIN matching and verification including reports for missing TINs and TIN matching errors;
Supports truncating social security numbers on returns;
Completes 1099 forms electronically;
Helps filers comply with state 1099 filing requirements;
Includes 2013 form 1099 instructions
W2 Mate Software can be downloaded by visiting http://www.W2Mate.com/download.html.