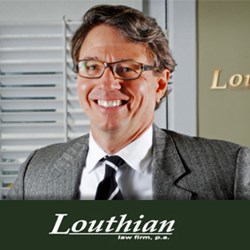 Our state legislature recognized the crucial role of educators in eliminating bullying in our schools, and we must do all we can to make sure bullies are identified and stopped.
Columbia, SC (PRWEB) September 12, 2013
Citing a September 6, 2013, article in the Charleston Post and Courier, personal injury attorney Bert Louthian today commented on a recently filed lawsuit alleging that a high school teacher bullied one of his male students by repeatedly telling the class that the student was gay (Doe v. Charleston Co. School Dist., Case No. 2013CP1005111, Charleston County Circuit Court). "Bullying is a form of aggression that can cause irreparable damage," Louthian said. "In the instant case, the student is said to have attempted suicide, which is alleged to have been caused by the bullying behavior of his teacher. It's bad enough when one child bullies another child, but for any teacher to engage in such destructive behavior is totally unacceptable."
"Unfortunately," Louthian continued, "statistics show that bullying by teachers is not uncommon." He referred to research done by psychiatrist Dr. Stuart Twemlow, published in the International Journal of Social Psychiatry in 2006 (Vol. 52(3):187-198), reporting that an astonishing 45 percent of sampled teachers said they had bullied a student at some point in their careers. "This is really disturbing," Louthian said, "and these numbers are drawn from self-reporting. I wonder what the numbers would show if they were based on reports from the victims themselves . . . which in itself is a problem."
According to the Post and Courier article, the student's mother alleges in the lawsuit that the teacher encouraged other students to join him in picking on her son and says that the boy felt he could not report the bullying to school administration, nor could he appeal to any of his classmates because of the alienation and isolation that the situation created.
"This student's hesitation to report the bullying is not unusual," Louthian said, pointing to a study which found that 64 percent of bullying victims keep quiet about the abuse. Incidents which involve physical injury or threat of physical injury are more often reported, as are those which involve children in lower grades.
South Carolina anti-bullying laws are found in S.C. Code Annotated Section 59-63-110 to -150, the Safe School Climate Act. Section 1 of the act calls on school administrators, faculty, staff, and volunteers to "demonstrate[e] appropriate behavior, treat[] others with civility and respect, and refus[e] to tolerate harassment, intimidation, or bullying." "Our state legislature recognized the crucial role of educators in eliminating bullying in our schools, and we must do all we can to make sure bullies are identified and stopped, especially when they are in positions of authority," Louthian said.
Louthian also commended the joint efforts of several organizations to bring to Columbia the Youth Against Bullying Summit. Co-sponsored by the U.S. Attorney's Office, S.C. Law Enforcement Officers' Association, S.C. Department of Education Student Intervention Services, and the S.C. Bar Law Related Education section, the day-long program will be held on September 24, 2013, at the Columbia Metropolitan Convention Center. Designed for both school administrators and students, the program urges them to take a stand against bullying both inside and outside the school environment.
A personal injury attorney with the Columbia, South Carolina, family-owned, family-focused Louthian Law Firm, Bert Louthian recently blogged about the dangers of cyber-bullying. "Bullying in any form, perpetrated by any person, is a danger to our children that we need to be aware of and address forcefully," he said.