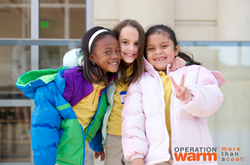 There is always someone who could use a warm coat. It's time for us to have a positive impact and bring smiles this winter!
South Jersey, NJ (PRWEB) September 21, 2017
Ludwig Financial Group of South Jersey has announced the initiation of a master charity program created to strengthen the communities it serves. The agency pledges to select a new beneficiary every 60 days, working closely with nonprofit organizations and community leaders to seek out those who most need help. Their wish is to bring awareness to important local causes by forming campaigns which aid worthwhile groups, families and individuals. Marc Ludwig, president of Ludwig Financial, explained, "We're passionate about activating community support and increasing visibility for the beneficiaries of our Community Program."
To debut the new community involvement program, Ludwig has elected to support Operation Warm and their Coats for Kids Foundation. More than a coat drive, Operation Warm manufactures and gifts brand new, good quality, fashionable winter coats to hundreds of thousands of children in need every year. In today's difficult economy, families often must choose between the necessities of food and shelter and winter coats. But children without warm coats suffer greater school absences, reduced performance and lower self-esteem. It's a seemingly small gift. But a winter coat selected by a child in their favorite color and style can change their life by empowering increased confidence and peer acceptance – not to mention overall wellness.
"There is always someone who could use a warm coat," said Ludwig. "It's time for us to have a positive impact and bring smiles this winter!" Ludwig Financial Group hopes to warm many local children's hearts by collaborating with Operation Warm for their very first community enrichment initiative. The donations page for this and all future campaigns will be accompanied by a fully detailed story outlining the cause, as seen here http://ludwigfingroup.com/causes/warm-childs-heart-gift-coat/.
The team at Ludwig Financial will spread the word through its own extensive network of customers, business associates, neighbors and friends. To join the agency in support of local children in need of cozy winter coats, donors may visit https://www.crowdrise.com/warm-a-childs-heart-with-the-gift-of-a-coat1 and are asked to share the page with their own personal and professional contacts. Ludwig Financial also produces a monthly publication, Our Hometown magazine, which will use a full page to highlight each Community Cause. The electronic Flipbook version of the current issue may be enjoyed at http://ludwigfingroup.com/magazines/.
About Ludwig Financial Group
A full-service insurance and financial services provider serving families and businesses from offices in West Berlin, Egg Harbor Township and Northfield, agency president Marc Ludwig knows many local families. This knowledge and understanding of the people of South Jersey help him to provide customers with an outstanding level of service. Ludwig and his team of dedicated professionals work diligently to help families protect the things which are most important to them – their families, homes, businesses, cars and more. They also prepare strategies to help clients achieve long-term financial goals. More information about the agency is available at http://ludwigfingroup.com/. To speak with a caring expert, call toll-free 1-888-288-2150.