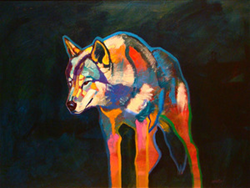 ...famous for his bold colors and contemporary style...
San Francisco, CA (PRWEB) October 31, 2014
For fans of Southwest art, the name of artist John Nieto is a well-known one. Nieto is famous for his bold colors and contemporary style, and was even recognized by President Reagan for his work. Nieto Fine Art, an online fine art gallery, is giving away a free John Nieto open edition print (valued at $250) to one lucky Twitter follower. Between now and November 10th, contestants can enter the "#TweetForArt" giveaway by using the entry form on the gallery's website where they will be prompted to follow Nieto Fine Art on Twitter and send out a pre-written tweet. The winner will be randomly selected and awarded any Open Edition print of their choosing.
About Nieto Fine Art
Nieto Fine Art is an online art gallery representing Native American Artist John Nieto and a select group of internationally renowned and emerging artists. Craig Poindexter works in oil, acrylic, steel, and digital artwork. Other San Francisco artists include Eric Bailey, who holds a B.A. in Fine Arts and Illustration, and Georgianne Fastaia who transforms old paintings into new works of art. Abstract artist Gloria Gaddis resides in Scottsdale, Arizona. Jaya King, works with scrap lumber and guache to add a weathered, textured look to her paintings.
About John Nieto
John Nieto is a Native American artist known worldwide for his use of vibrant colors, dynamic brushwork, and bold lines. "I paint native American themes so I can step back in time and shine some light on those people - that culture. Through my artwork, I hope to show their humanity and their dignity", says Nieto. His artwork has been exhibited across the country in world-class museums and galleries including the Denver Art Museum, The Heard Museum, The Buffalo Bill Center of the West, the John F Kennedy Center for the Performing Arts, the Smithsonian, and the White House. To learn more about Nieto Fine Art or to enter the #TweetForArt Giveaway, visit nietofineart.com.