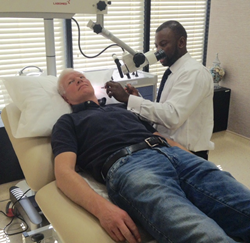 With the opening of our Southampton clinic, we will provide a bigger and better service for patients, offering more access and flexibility
Southampton, Hampshire (PRWEB UK) 6 January 2016
The Clean Ear Clinic has announced they will be opening a new clinic for ear microsuction in Southampton on 29th January 2016.
The new Clean Ear Clinic in Southampton is in the Marlands Shopping Centre, offering a convenient location for patients to come and be treated privately for troublesome blocked ears. This is the private medical group's second branch, after a successful two years offering ear microsuction in Portsmouth.
Ear microsuction is a treatment for clearing ears which are blocked by earwax: a condition affecting people of all ages.
According to the NHS, buildup of earwax, if left untreated, can cause earache, hearing loss, tinnitus, itchiness, vertigo, and ear infections. These problems usually improve with the removal of excess earwax.
Says Clean Ear Clinic spokesperson Dr Aigbs Ohiwerei, a GP specialising in ear nose and throat medicine: "With the opening of our Southampton clinic, we will provide a bigger and better service for patients, offering more access and flexibility across time slots."
According to the Clean Ear Clinic treatment information, microsuction is a treatment which is suitable for a much wider range of patients than the traditional technique of syringing. As Ear Nose and Throat surgeons or experienced ENT clinicians, staff of the Clean Ear Clinic are able to ensure that microsuction is performed safely and appropriately.
"Microsuction is the more modern, safer, and comfortable way of getting earwax cleaned out of your ears, and we have had very good feedback across the board from our patients. As people realize how easy and effective it is, we expect to see many more patients requesting it. With the opening of our new Southampton clinic in January, we're glad to be able to bring this treatment to more people," said Dr Ohiwerei.
"Although this treatment is available on the NHS, waiting times can be several months. In contrast at the Clean Ear Clinic we offer the opportunity for patients to be seen as soon as the next day, including after work and on Saturdays. As well as speed and convenience, another benefit of both our locations, within Changes
"Clinic in Portsmouth, and at Clinic Beauty in Southampton, is the non-hospital environment. Both of these clinics allow us to provide professional clinical care in a relaxed and comfortable environment," added Dr Ohiwerei.
Bookings for treatments at the Clean Ear Clinic are open to all from 29th January 2016, and initial opening times are Monday to Saturday, 930am-530pm - patients can book into the Southampton clinic by calling 02380 981 221
The Clean Ear Clinic website at http://www.cleanearclinic.co.uk offers prospective patients information about how to treat blocked ears, and what the microsuction treatment involves, including a video of the procedure. Patients can book by phone as well as submit email enquiries via the website.