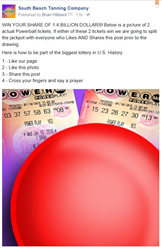 With no winner on Saturday night I can only imagine how many people will see this new post and try to be part of this and the Wednesday Night drawing
Orlando, Florida (PRWEB) January 12, 2016
South Beach Tanning Company had a simple social media post on facebook go viral and reached over 250,000 facebook users. This past weekend's post offered South Beach Tanning Company customers the opportunity to Like and Share the post for a chance to win a share of the $800 Million Dollar Lotto Powerball Jackpot. Since there was no winner in the Saturday drawing, the company has purchased two new Lotto tickets and is once again providing the opportunity for people who share the post a chance to win a share of the $1.4 drawing Wednesday night.
"This social media engagement went crazy. We thought it would be fun to offer customers a chance to share in the winnings if one of the two tickets we purchased won, but we never imagined that it would be shared throughout the country." said Brian Hibbard, President and CEO of South Beach Tanning Company. "With no winner on Saturday night, I can only imagine how many more people will see this new post and be part of the Wednesday night drawing."
The Powerball jackpot is now expected to reach over $1.4 Billion. "I think that the 250K people reached with our Saturday night giveaway will pale in comparison to the new post we have giving a shot at over a billion dollars. The opportunity to win $1.4 billion dollars has never happened before, it's going to be hysteria and we think we will reach over one million accounts this go around." said Hibbard.
When asked how they will handle if one of the tickets comes up a winner, Hibbard replied, "it would be chaos for sure but with a ton of media and a billion dollars, it won't be a bad problem to have".
South Beach Tanning Company is taking the lottery mania even one step further this week, giving away free lottery tickets with purchase at select locations.
ABOUT SOUTH BEACH TANNING COMPANY
South Beach Tanning Company is headquartered in Orlando, FL, and operates salons throughout Central Florida, Tampa, South Florida and Charlotte, NC. Founded by Brian Hibbard, a CPA, South Beach Tanning has been in business since 2003, and at the time of this press release, has never closed a location in its 15-year history. There are currently 45 salons located in 9 States. Individuals interested in franchising with the South Beach brand, or existing salons looking to convert to the South Beach brand, should contact their Franchise Sales Director at 855-844-8377 or visit our franchise website at http://www.southbeachtanningfranchise.com