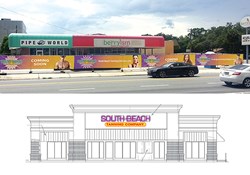 We had looked for the ideal location in South Tampa for about 3 years, and we believe we have found the best location in that entire market.
Tampa, FL (PRWEB) August 23, 2013
They say the residents of South Tampa don't like to travel north of Kennedy Avenue, so the corner of South Dale Mabry and Swan Avenue has always been a happening place. South Beach Tanning is about to make South Tampa's busiest corner even busier—and better! Soon, South Tampa folks will be able to stay put on their home turf and tan all they want with South Beach Tanning Company.
The new South Beach Tanning location will be right next to the new and much-anticipated Trader Joe's store (former location of Shape's Fitness), which has had a bit of coverage lately surrounding its requests to the City of Tampa for more signage. While South Beach has been aggressively marketing their franchise expansion, this particular location will be a corporately held location.
According to Brian Hibbard, Founder and President of South Beach Tanning Company, "We had looked for the ideal location in South Tampa for about 3 years, and we believe we have found the best location in that entire market. Rumors had been flying for about a year about Trader Joe's going in behind this corner, and we knew we wanted to be a part of it." While this site was actually never listed for lease, South Beach Tanning Company was able to locate the property owner through the tax records, and fortunately, beat out quite a number of other high profile retailers for the space.
Hopes are high for such a sought-after location, and South Beach Tanning is building this location with the anticipation of it being one of their busiest salons. Their usual locations cost about $500,000 to open; at this location, they will be spending closer to $900,000, ensuring the South Tampa market has the most up-to-date and state-of-the-art tanning facility available in the State of Florida. Because this will be such a busy location, it will also serve as South Beach Tanning's Tampa-based training location for new franchisees entering their system. Look for this location to be open in late November of 2013.
ABOUT SOUTH BEACH TANNING COMPANY
South Beach Tanning Company is headquartered in Orlando, FL, and operates salons throughout Central Florida, Tampa, South Florida and Charlotte, NC. Founded by Brian Hibbard, a CPA, South Beach Tanning has been in business since 2003, and at the time of this press release, has never closed a location in its 10-year history. Individuals interested in franchising with the South Beach brand, or existing salons looking to convert to the South Beach brand, should contact their Franchise Sales Director at 855-844-8377 or visit our franchise website at http://www.southbeachtanningfranchise.com.