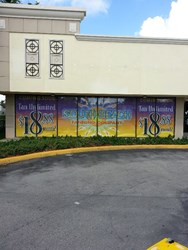 This will be one of our larger locations encompassing 3,000 SF and boasting 20+ tanning units.
Deerfield Beach, FL (PRWEB) August 27, 2013
South Beach Tanning is growing! In November, 2013, they will open a new corporate location in Deerfield Beach, Florida at 81 S. Federal Highway (intersection of US 1 and Federal Highway), right across the street from LA Fitness. South Beach has been expanding their business this year in a number of ways: through their salon conversion program, franchising and by opening new corporate stores. They are currently looking for locations for several franchisees, but the new Deerfield Beach location is part of their corporate expansion program, and Founder and President, Brian Hibbard expects great things in this location. "We had been looking in a few markets surrounding Deerfield but not in Deerfield itself. We are extremely picky about locations, but this location presented itself and the combination of the busiest intersection in Deerfield Beach, the mix of national tenants in the immediate area, and the extreme visibility of this location made it just too good to pass up. Given the high traffic in that immediate area, and the fact that there is no significant competition in that market, this will be one of our larger locations encompassing 3,000 SF and boasting 20+ tanning units."
Deerfield Beach is a beach community of about 77,000 people with a strong local economy that supports a large year-round population, in addition to a thriving tourist trade. South Florida is South Beach Tanning's primary expansion focus right now, and this is the first of many new locations coming to the South Florida market.
about South Beach Tanning Company
South Beach Tanning Company is headquartered in Orlando, FL, and operates salons throughout Central Florida, Tampa, South Florida and Charlotte, NC. Founded by Brian Hibbard, a CPA, South Beach Tanning has been in business since 2003, and at the time of this press release, has never closed a location in its 10-year history. Individuals interested in franchising with the South Beach brand, or existing salons looking to convert to the South Beach brand, should contact their Franchise Sales Director at 855-844-8377 or visit our franchise website at http://www.southbeachtanningfranchise.com.