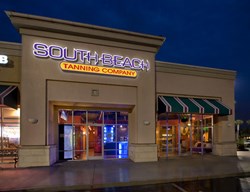 We are always looking at opportunities that will better serve our customers. This location gives our existing customers another strategically positioned salon.
Charlotte, NC (PRWEB) January 22, 2014
The beginning of February is going to be an exciting time for the South Beach Tanning Company and their franchisee, Scott Cline, who's opening his third location in the Charlotte area. Mr. Cline's two other South Beach locations are in the northeast area of Charlotte near UNCC and on Park Road, which is more centrally located at Woodlawn and Seneca, respectively. This new location at Rea Road in the Ballantyne area of South Charlotte gives his customers a convenient option for their favorite tanning no matter where they are in the Charlotte area. Even better for his customers and Mr. Cline, this new location is just to the left of the area's Target, a highly visible and convenient location for everyone.
Asked why the Ballantyne area so appealed to him, Mr. Cline responded: "We are always looking at opportunities that will better serve our customers; we listen to customer feedback as part of our decision making process. This location gives us good coverage of Charlotte for our customers that need multiple locations."
South Beach customers in the South Charlotte area are excited that their favorite tanning salon is coming to their area, and Scott Cline understands why. Years ago when he first looked at South Beach Tanning Company as a prospective franchisee, there were a few things that caught his attention. "After meeting with Brian & Heather Hibbard, owners of South Beach Tanning Company, at their corporate locations in Orlando, we came away excited in several areas. First, their equipment quality was exceptional. We had visited other top brand salons and the quality of South Beach's equipment seemed to be second to none. When we opened our Park Road salon in 2009, we offered the first Versa Spa spray tanning in Charlotte. Within a month of our opening, another major brand in our area acquired the Versa Spa in order to compete. Secondly, the South Beach salons are just really cool. With the eclectic design and cool music streaming, South Beach is just a fun place to be."
Soon, South Charlotte will have a new reason to get some rays. South Beach Tanning in StoneCrest at Piper Glen will house the latest and greatest tanning equipment in the industry and will be opening its doors the first or second week in February.
ABOUT SOUTH BEACH TANNING COMPANY
South Beach Tanning Company is headquartered in Orlando, FL, and operates salons throughout Central Florida, Tampa, South Florida and Charlotte, NC. Founded by Brian Hibbard, a CPA, South Beach Tanning has been in business since 2003, and at the time of this press release, has never closed a location in its 10-year history. Individuals interested in franchising with the South Beach brand, or existing salons looking to convert to the South Beach brand, should contact their Franchise Sales Director at 855-844-8377 or visit our franchise website at http://www.southbeachtanningfranchise.com.