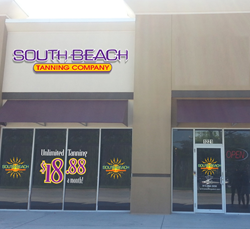 "We had a warm feeling about their entire team from the first time we met them. We were convinced that joining the South Beach team was an amazing opportunity for us."
Tampa, FL (PRWEB) June 10, 2014
South Beach Tanning Company, based in Orlando, Florida, has signed a multi-unit franchise agreement with Glen and Jill Harrod to open 5 franchise locations in the next 24-month in the Pasco & Pinellas County area. The first location is part of South Beach Tanning Company's salon conversion program and is located at 1279 Bruce B Downs Boulevard. Formerly Tan Lines, this is the first salon for the Harrods's and is the sixth South Beach Tanning location in the Tampa Bay market.
South Beach Tanning Company has experienced tremendous growth over the past 3 years and Brian Hibbard, Founder and President of the South Beach Tanning Company are excited about his newest franchisees. "The Harrods bring a considerable amount of business experience to the equation, " said Hibbard, "Their attention to details and excitement to grow the brand in the Pasco and Pinellas area is exciting for us a Franchisor." The Harrods are not new to entrepreneurial opportunities and are also partners in Toast Wine and Café, also located in Tampa. "For us, we have worked for years to be in a position to begin to grow and develop some business opportunities over the next 10 years and after meeting Brian and Heather, we knew that this franchise provided the operational and marketing support to help us grow the brand in the area." Said Glen Harrod. According to Jill Harrod, "We had a warm feeling about their entire team from the first time we met them. We were convinced that joining the South Beach team was an amazing opportunity for us."
"Our entire team is really looking forward to working with them as we continued to expand in the Tampa Metro area," said Hibbard. "And we have been so lucky to work with great franchisees throughout the country, the Harrods are just another great addition to the South Beach family." South Beach is the tanning leader in the Tampa Metropolitan area and will have over 10 stores once the Harrod's build out the area.
The Harrods are currently in negotiation with a number of centers in the Tampa Bay market and will soon be opening their second location.
About South Beach Tanning Company
South Beach Tanning Company is headquartered in Orlando, FL, and operates corporate and/or franchise locations in seven different states. Founded by Brian Hibbard, a CPA, South Beach Tanning has been in business since 2003, and at the time of this press release, has never closed a location in its 11-year history. Individuals interested in franchising with the South Beach brand, or existing salons looking to convert to the South Beach brand, should contact their Franchise Sales Director at 855-844-8377 or visit our franchise website at http://www.southbeachtanningfranchise.com.