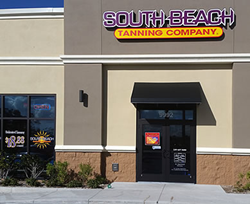 We are so excited to commit 10% of our annual profits to the Entrepreneurial Program at Florida Gulf Coast to provide scholarships on a need basis for students.
Fort Myers, FL (PRWEB) December 15, 2014
Ed DeRose is excited to be the first South Beach Tanning franchise in Fort Myers, Florida, but like any new business owner, he was nervous. So, he did what he always does when he needs to find a center, he prayed. He decided that he wanted to find a way to give back, to show how grateful he is for the gifts he's been given; and he wanted to use his new South Beach Tanning location to do it. After researching causes he greatly respected, he still wasn't sure which direction to turn. He wanted to know that the money he would give would go directly to people it could help, and he wanted to make sure that all of his money would go to those people. Finally, an answer came to him: a scholarship fund.
Mr. DeRose and his wife, Diedra, have just opened their South Beach Tanning location in the heart of the Florida Gulf Coast University community, and most of their employees and clients are enrolled there, so a scholarship fund seemed like the perfect way to give directly back to the community where they live and work, a community that is helping their new business to thrive. The DeRose's are committing 10% of their net profits each year to this fund, which will be administered by the college and available on a need basis to students enrolled in the Entrepreneurial Program at Florida Gulf Coast. For more information on the scholarship, click here http://www.fgcu.edu/Foundation/scholarships.asp and type in "South Beach."
"We've got a great location here, right at the entrance to the Gulf Coast Towne Center, and we're excited about the future and the response we're getting," Mr. DeRose said. The new South Beach Tanning franchise opened on December 1st, 2014, at 9992 University Plaza Drive. "We love the energy of this area and having all of the students around, both employees and clients. We want to be a driving force in this community, and we can't wait to see this scholarship fund at work," added DeRose.
ABOUT SOUTH BEACH TANNING COMPANY
South Beach Tanning Company is headquartered in Orlando, FL, and operates salons throughout Central Florida, Tampa, South Florida and Charlotte, NC. Founded by Brian Hibbard, a CPA, South Beach Tanning has been in business since 2003, and at the time of this press release, has never closed a location in its 10-year history. Individuals interested in franchising with the South Beach brand, or existing salons looking to convert to the South Beach brand, should contact their Franchise Sales Director at 855-844-8377 or visit our franchise website at http://www.southbeachtanningfranchise.com.