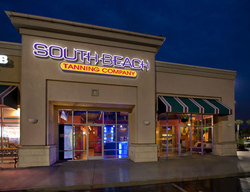 Clients will get access to the tanning industries most state-of-the-art equipment
Orlando, Floirda (PRWEB) January 21, 2015
South Beach Tanning Company, Florida's largest tanning salon chain, has purchased the popular Orlando based Exclusive Tan salon and provided the salon's existing members with membership privileges at the other 12 Orlando area South Beach Tanning Company locations. This most recent purchase continues South Beach's aggressive push to consolidate the tanning industry around just a few top tier brands.
"These mergers and conversions benefit everyone involved," stated Brian Hibbard, Founder and President of South Beach Tanning. "In this instance, the merger of the salon into ours just made sense. The salon served the Orlando Community for nearly 13 years." Clients will get access to the tanning industries most state-of-the-art equipment and access to all South Beach locations throughout the country.
South Beach Tanning Company has continued to expand Florida operations and franchise locations throughout the country and has aggressive growth plans for 2015. With the stores currently under development, South Beach is on track to average two new salon openings every month over the past year. There are currently 7 stores planned for the first quarter of 2015. "Our growth over the past 3 years has been tremendous," said Brian Hibbard, Founder and President of the South Beach Tanning Company. "The South Beach Tanning Company Conversion Program has provided a great opportunity for smaller salons to be part of our system and benefit from our marketing and branding programs."
Director of Franchise Sales, John Armatas said, "The South Beach Franchise system provides huge benefits to independent salon owners, that will now have time to work on the business, rather then worrying about what marketing promotion to run next week." The Salon Conversion Program does not require an upfront Franchise Fee, which sometimes can be a stumbling block for existing salons. "Brian makes this conversion so easy for the salon owner and the benefits that his team and marketing specialists provide, have helped to increase sales at conversion locations." Armatas added.
About South Beach Tanning Company
South Beach Tanning Company is headquartered in Orlando, FL, and operates corporate and/or franchise locations in seven different states. Founded by Brian Hibbard, a CPA, South Beach Tanning has been in business since 2003, and at the time of this press release, has never closed a location in its 11-year history. Individuals interested in franchising with the South Beach brand, or existing salons looking to convert to the South Beach brand, should contact their Franchise Sales Director at 855-844-8377 or visit our franchise website at http://www.southbeachtanningfranchise.com.