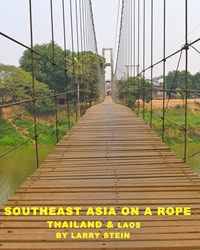 Anyone considering a trip to Southeast Asia will benefit from the tips and insights in this book
Glendale, CA (PRWEB) January 20, 2015
Traveling to new places can be both exciting and overwhelming, especially when exploring faraway lands where everything—the food, language, currency, and culture—is foreign. In his new book, 'Southeast Asia on a Rope: Thailand and Laos,' well-traveled author Larry Stein outlines the planning process that he follows, and documents the details of the trip itself—including specifics about lodging, costs, shopping, dining, and transportation. Stein explains how to do all of this affordably ('on a rope,' not a shoestring) while still enjoying comfortable accommodations, good food, and realistic travel options between destinations. Stein's style is conversational, friendly, witty, and honest. His own photographs—over two hundred of them—enhance his engaging story.
The first part of 'Southeast Asia on a Rope: Thailand and Laos' provides a thorough overview of how to plan and prepare, including: setting priorities; planning itineraries; researching flights; vaccinations and traveler's insurance; dealing with insects; acquiring a visa; what to pack; managing jet lag and long flights; and how to take great photos. The rest of Stein's book covers specific destinations in Thailand and Laos, and provides information on how to get there and where to stay, eat, shop, and sightsee.
Stein shares details about his satisfaction (or not) with his hotel rooms and meals (he provides photos of both), and he is not shy about his proclivity for the abundance of food offered by street vendors. His itineraries include stops at cultural and historical sites, and his photographs—temples, landscapes, city skylines, Thai monks, pagodas, street markets, and local people— illustrate the beauty and history he encounters along he way. "Pictures are worth more than a thousand words—they are key for me in deciding destinations and accommodations," says Stein. "I culled through my many photos to provide a useful resource for my readers."
Unique among travel books, Stein wanted to share the knowledge he has gained in his forty years of trip planning and cover ground that other sources seem to be lacking. He repeats this formula in his upcoming companion book, 'Southeast Asia on a Rope: Cambodia and Myanmar.' "In tailoring my own vacations, I found glitzy magazines aimed at the 'cost is no object' traveler, and a suitcase full of books for backpackers and flash packers," explains Stein. "The 'traveler on a rope' fits neatly between these two extremes. Anyone considering a trip to Southeast Asia will benefit from the tips and insights in this book."
'Southeast Asia on a Rope: Thailand and Laos' is published in eBook format by eBookIt.com and is now available at popular online retailers including Amazon.com, Barnesandnoble.com and Apple's iBookstore.
Review copies of 'Southeast Asia on a Rope: Thailand and Laos' are available to media contacts upon request. Author Larry Stein is available for interviews.
CONTACT:
Larry Stein
traveleronarope(at)gmail(dot)com
818-242-8796
About Larry Stein
Larry Stein is captivated by ethnic cuisine, cultural diversity and photography. These passions are sated through traveling with his trusty cameras and ample appetite. A published play and an appearance with an improv group have recently been checked off on his bucket list.
He has an undergraduate history degree from U. C. Berkeley, and a law degree from Boalt Hall. He practiced law with a fortune five hundred company for nearly thirty years.
He lives with his wife Roslyn and their dog Pogo.
About eBookIt.com
Since 2010, eBookIt.com (based in Sudbury, Massachusetts) has helped thousands of authors and publishers get their books converted to ebook format, and distributed to all the major ebook retailers, including Amazon.com, Barnesandnoble.com, Apple iBookstore, Kobo, Sony Readerstore, Ingram Digital, and Google eBookstore.
###