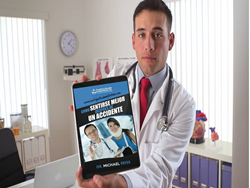 They helped me and my family Feel Better Faster after our car accident
Las Vegas, NV (PRWEB) February 17, 2017
Las Vegas Car Accident Treatment Centers has announced that they have opened another new location at 1527 W. Craig Rd #3 North Las Vegas, Nevada 89032. The Southern Nevada Chiropractic clinics have received the most five star ratings and reviews on Google so far and the feedback they have received is greater than most other chiropractors in Las Vegas. The centers are already operational at their Bonanza Road and Tropicana Avenue facilities.
"I was in a rear end car accident that left me with pain throughout my back, mostly in the lower region. I wasn't sure about chiropractic care until I met Dr. Reiss and noticed his friendly attitude and attention to the body." Said Kris. He is one of the many patients who have shared their experience with Dr. Reiss in their testimonials. Patient testimonials about the car accident chiropractor Dr. Michael Reiss are phenomenal and inspiring.
Las Vegas Car Accident Treatment Centers are conveniently located in the Northeast, Northwest, Southwest and Green Valley of Las Vegas and have helped a great number of car accident patients through conservative methods of car accident treatment. The website has a complete information about the type of injuries and information regarding how a car accident chiropractor can help them Feel Better Faster.
Dr. Michael Reiss DC is the clinic director at the LV Car Accident Treatment Centers and has recently written a book about whiplash injuries and whiplash treatment. He is giving it free to anyone recently injured in a car accident. With the new location along with the existing four locations, the practice will help more and more patients and will cover all of the Las Vegas area. More information is available on the website and social media presence of Las Vegas Car Accident Treatment.