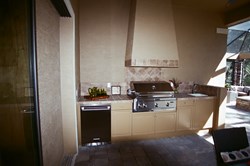 'As perfect replacements for wood, Seaboard and AZEK provide weather-resistant surfaces that will not rust, rot, corrode or splinter over time,' said Dave Baccari of SouthernStone Cabinets, Inc.
Clearwater, FL (PRWEB) December 23, 2013
This is the time of year when homeowners start planning for outdoor living spaces and how to upgrade them. The trend for lanais and decks is to bring the comforts of the indoors to the outside, according to Dave Baccari, president of SouthernStone Cabinets, Inc. However, amenities, such as outdoor kitchens complete with stonework ovens and stainless steel grills, require materials that offer the lowest possible maintenance and durability. For his 2014 outdoor cabinet collection, Baccari has chosen top of the line high density polyethylene (HDPE) and PVC materials in a selection of door styles. Vycom's Seaboard and AZEK material from its sister company CPG Building Products, provide great looks and also hold up to the harshest weather and temperature extremes.
"Seaboard is an HDPE material that lends itself well to our designs," said Baccari. "The material is low maintenance and easy to clean, standing up to the wear and tear of outdoor environments," he said. The AZEK material is made of cellular PVC and stands up to weather extremes. "As outdoor living areas become larger and more elaborate, alternatives to wood and metal can provide long-term durability with beautifully crafted looks."
According to Baccari, Seaboard and AZEK provide weather-resistant surfaces that will not rust, rot, corrode, delaminate or splinter over time. "They are the perfect replacements for wood and greatly contribute to a low-maintenance, easy outdoor lifestyle." In addition to using materials that do not absorb moisture, Baccari also uses stainless steel hardware for his cabinets.
SouthernStone features nine different door styles in eight colors ranging from a contemporary, slab design to a grooved panel, shaker style door, as well as complete customization of cabinet size and depth. With Seaboard cabinet box colors of Polar White, Mercury Gray, Black, Sandshade, and Seafoam, there's no need for painting. AZEK is available in standard white. "All of our Seaboard doors are produced internally using CNC routing equipment for a long-lasting, well-designed look," said Baccari.
In SouthernStone's market area of Florida and the Caribbean, it is evident that despite heat, sunlight and summer rains, they can deliver a product that will withstand all that Mother Nature can throw at it. But what do these alternative materials run in cost? Baccari sums it up: "We need to educate homeowners that although HDPE and PVC may cost a bit more upfront, they will actually see a return on investment very quickly, because of the way wood deteriorates and becomes an expensive maintenance nightmare with labor, repair and replacement costs."
To learn more about these finely crafted outdoor cabinetry designs, visit http://www.southernstonecabinets.com. For more about AZEK, visit http://www.azek.com and Vycom's Seaboard, http://www.vycomplastics.com/seaboard.php.