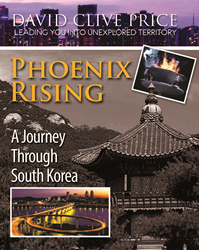 Knowing the culture will enable foreign companies to bridge the gap between their own background and embrace unique Korean social and business values
London, UK (PRWEB UK) 20 October 2014
On Tuesday 21 October, David Clive Price will introduce his new book Phoenix Rising: A Journey Into South Korea as a prelude to a stimulating discussion on the economic and foreign relations between the EU/UK and South Korea with a panel of experts. The format will be a seated conference followed by a networking reception.
HE Mr Sungnam Lim, Ambassador of the Republic of Korea, will introduce the event, which takes place between 6 pm and 9 pm. Mr Lim is a career diplomat with a wide range of experiences spanning more than three decades and most recently served as Seoul's Special Representative for Korean Peninsula Peace and Security Affairs at the Ministry of Foreign Affairs.
The Keynote Speaker will be Tony Whitehorn, President and CEO Hyundai Motor UK.
Tony Whitehorn's career spans three decades. He has held key positions at Rover, Renault, and Toyota before joining Hyundai Motor UK in 2005 as Managing Director. In 2011 Mr Whitehorn became the first Managing Director in the history of Hyundai Motor Europe to be promoted to President and CEO; a position he currently holds.
The expert panelists are:
Sir Thomas Harris, Vice Chairman at Standard Chartered Bank and British Ambassador to Korea 1993-1997
Prof. Keun-Wook Paik, Senior Research Fellow at the Oxford Institute for Energy Studies
Aidan Foster-Carter, Honorary Senior Research Fellow in Sociology and Modern Korea at University of Leeds
The Event Partner is David Clive Price, author of the Master Key to Asia, and founder of David Clive Price Global Coaching: cultural intelligence for Asia Pacific markets.
The event is free. Those interested in attending or covering the event can Register Here.
ABOUT PHOENIX RISING; A JOURNEY INTO SOUTH KOREA
"This journey into the heart of South Korea takes the reader from the birth of democracy and the hosting of the Olympic Games in 1988 to the brash, sophisticated, highly creative Korea of today. On the way the writer pauses at Korean temples, mountain hermitages, the border with the North, romantic islands and ancient dynastic capitals to evoke a portrait of a country in constant, dynamic flux and yet reliant on its centuries-old culture and traditions."
For further information contact Asia House, London via: business.policy(at)asiahouse.co(dot)uk or 020 7307 5454
For further information on Phoenix Rising, visit the author's blog 'Unexplored Territory'