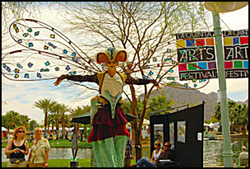 This event is now almost 30 years old and always attracts a vibrant and diverse audience in the tens of thousands each year.
Indio, CA (PRWEB) January 20, 2015
Brad Schmett, Broker Associate with Luxury Homes by Keller Williams today announced that the upcoming 29th Annual Southwest Arts Festival will be a big boost for luxury home sales and real estate portfolio acquisitions as thousands convene near Indio to attend the gala event. The three-day festival will feature the desert's most exquisite collection of unique Southwest Art.
Excitement across the Valley has been building for months as the lineup of more than 280 artists from 22 states and multiple countries was announced. Each year the festival continues to grow and evolve, attracting the highest caliber of gifted artisans from around the planet. One of the largest annual event fundraisers, the Southwest Arts Festival supports several Indio-based nonprofit organizations. With over 200 community leaders and volunteers contributing their time and talents to make a success of the event, it is sure to be the best Festival ever.
Schmett recently commented on the fiscal impact of the Southwest Arts Festival on the Coachella Valley, "This event is now almost 30 years old and always attracts a vibrant and diverse audience in the tens of thousands each year. This translates to a big boost for all local businesses, including lodging, dining, and other facilities used by guests and locals who attend. For those of us in the real estate industry, it is a particular delight to welcome new friends and neighbors from among the festival attendees. My office always experiences a busy week because so many of the art fans are also searching for vacation homes or they are in the market to add to their real estate portfolios. Southwest Art is unique to this area of the United States and draws buyers from around the world."
This year's festival will feature interactive art, glassblowing and fine art painting, as well as other mediums for sale and view. A wide variety of delicious foods will also be available, set to a background of live jazz music.
For more information on the Southwest Arts Festival visit http://palmspringsrealestateinfo.com/ps/southwest-arts-festival/.
To find out more about investing in La Quinta, CA real estate visit http://indiorealestateinfo.com.
About Luxury Homes by Keller Williams: Luxury Homes by Keller Williams – La Quinta, is an exclusive, elite and sophisticated group of real estate consultants raising the bar for service in the upper-tier La Quinta and Palm Springs area residential real estate market.