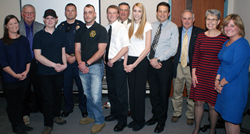 I was very impressed with how seriously these students took this."
Dowagiac, MI (PRWEB) June 24, 2015
Four students from Southwestern Michigan College's criminal justice program will compete at the SkillsUSA National Championships in the criminal justice contest taking place June 22-26 in Louisville. The students qualified after sweeping the SkillsUSA State Leadership and Skills Conference in April.
To qualify during the April conference, three students, Abbigale Guyott, Nicole Brill, and Jon Brown, won the postsecondary crime scene competition, where participants were required to photograph a mock crime scene, sketch the scene, and collect evidence. In addition, Justin Desjardin received a gold medal in the criminal justice contest, where contestants were judged on their handling of a random routine law enforcement task, such as writing a traffic violation or conducting a vehicle search.
"This is a good thing to have on their resume," says Dowagiac Deputy Police Chief Jarrid Bradford. "I was very impressed with how seriously these students took this."
The SkillsUSA National Championships is the largest career and technical skills competition in the United States. The multi-million dollar event hosts close to 6,000 contestants and has 1,500 judges presiding over 98 categories. The criminal justice contest specifically tests students at criminal justice schools who are preparing to join law enforcement agencies in the field. Skills tested include knowledge of United States constitutional law, written and verbal communication, and the ability to carry out the tasks related to an entry-level law enforcement position.
The students attribute their success to the engagement efforts put forth by Southwestern Michigan College, specifically the Criminal Justice Club.
"First semester I was skeptical," says Justin Desjardin. "Then I joined the Criminal Justice Club. That was the best choice I made. I get along great with these kids, and I love to compete."
Nicole Brill feels much the same way. "I fell in love with it and put a lot of time and work in the club, which is hands-on, which is how I learn," she says. "I'm so excited every Tuesday to get up here and work. It's the best experience I've had."
For more information on the criminal justice program, Southwestern Michigan College invites prospective students to visit its website at http://www.swmich.edu, contact its office at (269) 782-1000, or visit Southwestern Michigan College, 58900 Cherry Grove Rd, Dowagiac, MI 49047.
Located in Dowagiac, MI, Southwestern Michigan College is an affordable, accredited option for students hoping to pursue the first two years of a four-year degree. With high-quality transfer courses available, SMC is dedicated to providing a rigorous academic experience at less than half the cost of the average four-year college or university. Additionally, SMC offers occupational training in the technical, business, and healthcare fields. We strive to prepare students for various lucrative, skilled occupations.