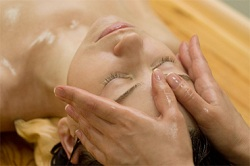 Bogotá, Colombia (PRWEB) April 24, 2014
Ayurveda, which literally means "The Science of Life," is the healing science from India. It has been practiced for over 5,000 years by millions of individuals to assist the body in journeying back to optimal health. Ayurveda views health and disease as the end result of how we interact with the world, in terms of our beliefs, perceptions, thoughts, and feelings, which then ultimately determine our actions. Actions in harmony with our inner nature create health, while those dis-harmonious with our inner nature create disease. Health comes when we live in harmony with our true nature as spirit.
Depilsthetic Spa was created 3 years ago in Bogota by Kelly Magrey Mogollon and Gladys Triana, graduates therapists from Escuela de Ayurveda de California. The Spa is pleased to announce a variety of Ayurvedic therapies now available in Colombia. In Ayurveda, it is considered that true beauty comes from within each individual and manifests once there is complete harmony between body, mind and spirit. For more information please visit http://www.escuelaayurveda.com.
Ayurvedic Therapies available:
Shirodhara
It is one of the most important body therapies in Ayurveda. Shirodhara involves the application of warm herbal oil over the forehead (sixth chakra). The oil is poured in a relaxing smooth and continuous flow. Shirodhara is a great treatment for relieving energetic imbalances that cause chronic headaches, insomnia, depression, panic attacks, anxiety and nervousness.
Abhyanga (Ayurvedic massage)
Applying herbal oil and subsequent absorption into the body, provides a full relaxation. It involves different techniques for applying oil with four hands (two people). This therapy allows the person to be less affected by mental and physical aging.
Ayurvedic facial
Natural Ayurvedic rejuvenation therapy where herbal blends and relaxing massage are used. This therapy provides an opportunity to reconnect with our inner beauty and peace.
For more information or to schedule an appointment, call +57 1 520 91 87 or 315 377.
About the therapists
Gladys Triana is a pedagogue with a degree in modern languages. She is the financial manager and therapist at the holistic wellness center Depilsthetic Spa. She uses uses Ayurvedic philosophy in all aesthetic and cosmetic procedures She graduates from Escuela de Ayurveda the California, where she currently conducts studies as an Ayurvedic Health Educator.
Kelly Magrey Mogollon is healthcare professional graduated in bacteriology and clinical laboratory. She is the administrative manager of the holistic wellness center Depilsthetic Spa, where she currently conducts Ayurvedic therapies. She combines cosmetic and aesthetic therapies with the wisdom of Ayurveda in the Western world.
The Escuela de Ayurveda de California offers a variety of certified courses in Ayurvedic massage, faciales and other therapies. For more information, please visit http://www.escuelaayurveda.com.