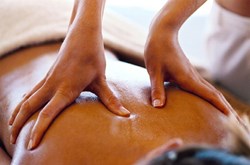 Massage therapy can help people unaffected by the conditions listed above too..
San Francisco, CA (PRWEB) October 30, 2013
Spahub.com, the online leading spa directory, has released their latest blog post on the top health benefits of massage therapy and the reasons people may never thought it could help them.
While there has been a lot of research done on the benefits of the different types of massage therapy, Spahub.com has now specified the top benefits of massage therapy to provide a better overall healthy life.
Professional massages have always been known to help bring on relaxation, but there are also a number of other health benefits that can come from it. Therapeutic massages came in to existence as a way to ease pain temporarily, which is where its medical benefits stemmed from.
Even when combined with other medical care, massage is still used today as a natural way to treat certain conditions. But today, there are many other reasons to utilize massage; not only to make someone feel good but for other reasons people may not realize:
1. Anxiety: Massaging the body has been shown to calm anxious feelings in people going through withdrawal. It also helps with depression, eating disorders, and other medical issues where anxiety plays a factor.
2. Poor circulation: A skillful massage can increase blood circulation in the body, which can lead to more energy, reduced pain, and better distribution of oxygen to the limbs.
3. Spots-related injuries: Pulled muscles and torn ligaments are often treated with massage therapy. As mentioned previously, the increased blood flow to aching muscles helps reduce pain.
4. Immune system: Frequent massage therapy has been shown to strengthen the immune system, making the body less prone to disease or illness.
5. Migraines: This is especially beneficial for those with tensions headaches/migraines. It's one the best ways to treat them.
6. Chronic Pain: Illnesses like rheumatoid arthirits, sciatia, and other painful conditions can greatly benefit from massage therapy.
7. Frequent cramping: Massages lessen cramps and spasms if performed regularly.
8. Labor pains: Massages have been shown to reduce the pain associated with labor because it lessens the tension in the body.
9. Low self-esteem: The most personal reason of all, massage therapy can help people feel connected because of the prolonged human contact.
"Massage therapy can help people unaffected by the conditions listed above too," says Mark Verkhovski of Spahub.com. "It has been shown to stimulate the lymphatic system, which is responsible for moving waste through the body. Which makes a massage a natural detoxifier."
Spahub.com's team has provided a more in depth analysis of the health benefits of massage, their top recommendations to get one, and more on their latest blog post here: http://www.spahub.com/massage/health-benefits.html.
With Spahub.com's expansive online spa directory and more informational resources on these top 10 spas (and more), visitors can find what they need to locate a spa in their local areas anywhere in the U.S. and Canada.
About Spahub
Spahub's mission is to create the largest Day, Medical and Getaway Spa Directory in the world. They strive to make the site a comprehensive place to learn about the different services spas provide. The goal is to provide every visitor an effective tool to quickly locate and explore a spa's amenities before taking one step out the door. For more information, please visit http://www.spahub.com.