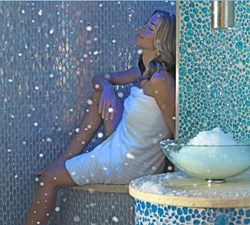 SpaHub recommends that people take charge of their mind and body with spa treatments that are focused on hydration, muscle relaxation, and gentle exfoliation...
San Francisco, CA (PRWEB) January 14, 2014
The bitter cold weather brought in by the infamous polar vortex is wreaking havoc on people's skin and nails. The dry air and freezing temperatures cause skin to become sensitive and dehydrated as well as instigate other various beauty burdens, such as chapped lips and brittle nails. With three more months of winter left to endure, SpaHub shares the best spa treatments for the face and body to remedy these winter weather woes.
1) Full Body Exfoliation
Shorter days and less sunlight often cause people to feel lethargic and run-down throughout the winter months. Furthermore, the harsh weather can strip the epidermis of its hydrating oils located beneath the surface. A full body exfoliation is the perfect spa treatment for buffing off flaky dead skin cells to restore moisture to the surface. The treatment includes a full body rubdown and rinse-off using a scrub containing tiny micro beads or sea salts that massage skin while they polish, so skin will feel just as good as it looks.
2) Aromatherapy Foot Treatment
People are less active throughout the long winter months, causing joints and muscles to become increasingly stiff. During an aromatherapy treatment feet are soaked in a hot tub of sea salts with therapeutic essential oils such as peppermint and lavender. This treatment rejuvenates sore feet and can also soften callused, cracked skin on the soles that is often precipitated by the dry air this time of year.
3) Hot Milk and Honey Manicure
This wintertime favorite is just as indulgent as the name implies. Hands are first soaked in hot milk and honey, followed by a scrumptious sugar exfoliation, massage, and honey butter hand mask. The treatment is completed with the typical steps definitive of a manicure: nails are trimmed, filed, buffed, and polished off with color. The combination of rich ingredients incorporated into this unique manicure treatment help to hydrate parched, scaly skin that results from the drier air and frequent hand washing that occurs this season, depleting skin of its natural oils.
4) Deep-Hydrating Facial
The drop in humidity outdoors alongside the dry air cranked out by indoor heating units cause a shortage of moisture in the skin, producing visible signs of dehydration and sensitivity. SpaHub recommends forgoing harsh chemical peels, masks, and alcohol-based products that may further strip skin of its vital natural oils in lieu of a hydrating facial, which helps rejuvenate skin while promoting its smooth and youthful appearance.
5) Warm Winter Stone Massage
A hot stone massage is the perfect spa treatment to melt away anxiety and stress. The heated stones help to loosen up muscles in the body, allowing the massage to penetrate deeper to reduce tension and enhance the feelings of peace and relaxation. People often do not realize the toll that the decrease in sunlight and temperature can take on their mind and body throughout the long winter months. This massage is perfect for thawing tension and rejuvenating people's spirits during the season.
Wintertime is denoted by its short days, low sunlight, high stress, and cold, dry air. SpaHub recommends that people take charge of their mind and body with spa treatments that are focused on hydration, muscle relaxation, and gentle exfoliation to rid the body of dull, dehydrated skin and other beauty drawbacks brought on by the season. The five aforementioned spa treatments recommended by SpaHub help resolve the many beauty blunders that the cold weather creates and are sure to reduce seasonal stress and anxiety often experienced during the winter.
With Spahub.com's expansive online spa directory covering the U.S. and Canada, visitors can find the right spa resort or treatment to meet their needs.
About Spahub:
Spahub's mission is to create the largest Day, Medical and Getaway Spa Directory in the world. They strive to make the site a comprehensive place to learn about the different services spas provide. The goal is to provide every visitor an effective tool to quickly locate and explore a spa's amenities before taking one step out the door. For more information, please visit http://www.spahub.com/.