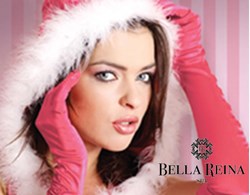 Bella Reina Spa blasts off the holiday day season with Spa-liday 2013.
Delray Beach, FL (PRWEB) October 31, 2013
Bella Reina Spa, the Delray Beach "go-to" spa for beauty, spa-ing and weight loss reveals the exclusive spa specials designed for Black Friday, Cyber Monday and Spa-liday 2013. The spa elves have been busy getting ready for the Spa-liday 2013 season with teacher's gift ideas, special spa packages, and the most exciting Black Friday special ever.
Black Friday, traditionally the day after Thanksgiving starts the official holiday shopping season, while Cyber Monday is the biggest online shopping day of the year. Spa-liday 2013 at Bella Reina Spa will launch on November 21st with a spa shopping social from 5:00 p.m. - 8:00 p.m. complete with stress-free shopping for aromatherapy, bath items, Poo-pourri, PaddyWax Soy Wax candles, Bling-Sting and more. Guests will receive double rewards points, exclusive spa specials, spa demonstrations and holiday mini-makeovers.
For one day only, Black Friday, Bella Reina Spa will offer $50 spa gift cards for every $100 purchased. Shop from the comfort of your home at BellaReinaSpa.com or stop by the spa for the Black Friday festivities. Spa-liday 2013 will continue on Cyber Monday with exclusive sales on the best skin care brands, cosmetics, candles, gifts, and stocking stuffers. The pink carpet at Bella Reina Spa will roll out on Black Friday and keep your Spa-liday shopping for 2013 stress-free, easy, and mall-free.
The best way to take advantage of these amazing Black Friday, Cyber Monday and Spa-liday 2013 exclusive savings is to check at BellaReinaSpa.com to subscribe to the "Pink Sheet" or by calling the spa at 561-404-7670.