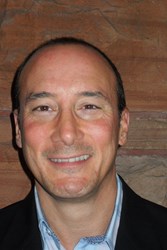 I was attracted to the Spa of the Rockies because it is unique in the world. The mineral hot springs are of the highest quality and a genuine source of healing that dates back to the earliest Native Americans
Glenwood Springs, Colo. (PRWEB) August 21, 2013
After a long search, Glenwood Hot Springs is pleased to welcome David Erlich as the new spa director for the Spa of the Rockies. Erlich brings with him an extensive list of credentials that includes more than 20 years in the hospitality and spa industry.
Prior to landing at Glenwood Hot Springs, Erlich was the executive director of spa and recreation services at the Caribbean beach resort and luxury hotel Viceroy Anguilla. He served as regional director of spa operations for Fairmont Hotels for the western U.S. and Hawaii, and as the executive director of spa and retail operations for Fairmont Sonoma Mission Inn and Spa, a geothermal spring spa in Sonoma, Calif. Erlich also spent time overseeing spa and retail operations as executive director for Spa Grande at the Grand Wailea in Maui, Hawaii. From 2000 to 2009, he served as a board member of the International Spa Association, and, as an avid triathlete, adventure racer and surfer, he is passionate about health and wellness issues.
Erlich has assisted with opening and managing spas around the world, including in Hawaii, Bermuda, the Middle East and now Colorado. "I was attracted to the Spa of the Rockies because it is unique in the world. The mineral hot springs are of the highest quality and a genuine source of healing that dates back to the earliest Native Americans," said Erlich. "The geothermal healing tradition is deeply integrated into the identity of the brand; in fact, the resort just celebrated its 125th anniversary."
Rather than a once-in-a-while special treat, Erlich believes spa services should be a part of regular self-care. He is incorporating changes that will streamline the spa services menu and make it more accessible to new spa goers. "As an athlete, I'm well-acquainted with strained muscles, injuries and sun damage; and I am a firm believer that body work (massage), nail care and skin health are essential for lifestyle maintenance and overall wellbeing," said Erlich.
Under Erlich's direction, the Spa of the Rockies will debut a new menu this fall featuring innovative packages, services and technology. Among the offerings will be a first-timer's package designed exclusively to give new spa goers a sampling of the spa's signature treatments.
Adding to the geothermal experience, more services will be available that incorporate the mineral hot springs water. While guests wait for their therapist to meet them in the spa's Serenity Room, they will be treated to a geothermal foot ritual as a prelude to their spa service. If possible, Erlich also recommends guests make time prior to their spa appointment to prepare their body and skin to receive treatments by soaking in the outdoor hot springs pools, either the tepid larger pool or the toasty therapy pool. The mineral-rich thermal water, harvested twice daily, will also be used in new facial treatments.
Recognizing that the demand for men's spa services continues to grow, especially for those living an active lifestyle, Spa of the Rockies is adding to its men's offerings by creating a grooming bar, complete with a shaving station, in the men's locker room. It will be stocked with Organic Male, a new product line that targets men's skincare needs, quickly, simply and effectively.
Perhaps most anticipated new service is the soon-to-be-available HydraFacial™ technology. "We will be able to offer our clients a new level of aesthetics that is currently unavailable in the local market," said Erlich. HydraFacial™ is a resurfacing procedure that provides cleansing, exfoliation, extraction and a hydrating infusion of antioxidants, peptides and hyaluronic acid. It is non-invasive, non-surgical and delivers instant results with no discomfort or downtime.
"My goal for the Spa of the Rockies is twofold," said Erlich. "I hope to provide a return on investment for the owners and provide an amazing high-value experience for the customer."
To peruse the spa menu or to book a Spa of the Rockies appointment, please visit http://www.spaoftherockies.com or call 970-947-3331.
About Glenwood Hot Springs
Glenwood Hot Springs is a 125-year-old Colorado landmark resort located along I-70 at Glenwood Springs, approximately 165 miles west of Denver and 90 miles east of Grand Junction. Famous for its enormous hot springs pools, other amenities include the Spa of the Rockies, the Glenwood Hot Springs Lodge, an athletic club, a restaurant open for breakfast and lunch, a retail store specializing in swimwear and a miniature golf course open seasonally. For more information, including press releases, a press kit, photos and a live web camera, please visit http://www.hotspringspool.com/misc/press-room or call 800-537-SWIM (7946) or 970-947-2955.
Media Contact:
Jeremy Gilley, Director of Sales and Revenue
Glenwood Hot Springs/Spa of the Rockies
970-945-3324
jgilley(at)hotspringspool(dot)com
or
Vicky Nash
Resort Trends, Inc. – media communications for the travel & tourism industry
970-948-4923
pr(at)hotspringspool(dot)com