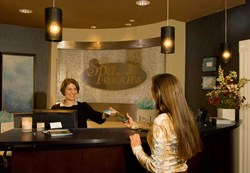 We were drawn to HydraFacial™ because it aligns with our philosophy – noninvasive treatments that are highly effective and results driven.
Glenwood Springs, CO (PRWEB) September 25, 2013
Spa of the Rockies has upgraded its inventory of skincare offerings with the addition of the new HydraFacial™ technology. Because it is so effective and requires minimal downtime, HydraFacial™ is a favorite pre-event treatment in the film industry, as well as a skincare technology used by notable dermatologists. Beginning in late September, it will be available at Spa of the Rockies at Glenwood Hot Springs.
"The HydraFacial™ provides Spa of the Rockies with the capability to address most major skincare concerns – acne, signs of aging and sun damage – without downtime," said Spa of the Rockies spa director David Erlich. "We were drawn to HydraFacial™ because it aligns with our philosophy – noninvasive treatments that are highly effective and results driven."
Suitable for all skin types, HydraFacial™ treatments are designed to nourish and moisturize the skin, leaving it soft, supple and hydrated. Treatments specifically target skin issues including sun damage, blackheads, whiteheads, enlarged pores, brown spots, uneven skin tone, fine lines and wrinkles. Each treatment uses a specially designed delivery system called Vortex-Fusion™ that exfoliates the skin several times with each pass, achieving better, more even results. The patent-pending spiral design creates a vortex effect to easily dislodge and remove impurities and introduces hydrating skin solutions, including potent antioxidants, peptides and hyaluronic acid.
During a treatment, trained Spa of the Rockies estheticians provide deep cleansing to remove dead skin cells and reveal the healthy skin beneath. Next, clients receive a gentle acid peel to loosen dirt and debris from pores without irritation. Extractions are quick, painless and automated. Hydration, when nourishing antioxidants and anti-aging hyaluronic acid are applied, is the last step of treatment. Clients are encouraged to extend the benefits of their HydraFacial™ through the use of at-home daily care solutions, which will be available for sale in the Spa of the Rockies boutique.
The new equipment also comes with LED light therapy capabilities that can be administered post-treatment. Red LED light is used to improve the appearance of skin firmness and resilience; it also helps reduce the appearance of fine lines and wrinkles, hyperpigmentation and other signs of aging. Blue LED light is considered beneficial for people who suffer from oily skin or breakouts.
On a national scale, the HydraFacial™ has received quite a bit of media buzz. Well-known physicians Dr. Paul Nassif, Dr. Harold Lancer and Dr. Zein Obagi rely on HydraFacial™ results for their demanding clients. The HydraFacial™ has also been featured extensively in the media, including on Fox, NBC, ABC, CBS and "The Doctors" television show, as well in Allure, Essence and InStyle Weddings magazines. Celebrity clients include Paris Hilton, Adrienne Maloof, Evan Rachel Wood, Kate Winslet, Marie Osmond and Amy Poehler.
To book a HydraFacial™ at the Spa of the Rockies, please call 970-947-3331. To view other spa treatments available, please visit http://www.spaoftherockies.com.
About Glenwood Hot Springs
Glenwood Hot Springs is a 125-year-old Colorado landmark resort located along I-70 at Glenwood Springs, approximately 165 miles west of Denver and 90 miles east of Grand Junction. Famous for its enormous hot springs pools, other amenities include the Spa of the Rockies, the Glenwood Hot Springs Lodge, an athletic club, a restaurant open for breakfast and lunch, a retail store specializing in swimwear and a miniature golf course, open seasonally. For more information, including press releases, a press kit, photos and a live web camera, please visit http://www.hotspringspool.com/misc/press-room or call 800-537-SWIM (7946) or 970-947-2955.
Media Contact:
Jeremy Gilley, Director of Sales and Revenue
Glenwood Hot Springs/Spa of the Rockies
970-945-3324
jgilley (at) hotspringspool (dot) com
or
Vicky Nash
Resort Trends, Inc. – media communications for the travel & tourism industry
970-948-4923
pr (at) hotspringspool (dot) com