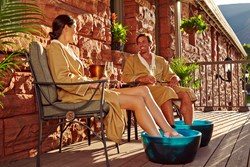 Our mission is to help our guests feel better. We strive to accomplish this by providing unsurpassed quality services and by adding value in unexpected ways to almost every treatment we offer.
Glenwood Springs, Colo. (PRWEB) November 14, 2013
Spa of the Rockies at Glenwood Hot Springs was once again honored in the annual Readers' Choice Awards sponsored by Spafinder Wellness 365™. It is the third successive year Spa of the Rockies was named a top spa in the Best Mineral or Thermal Spring Spa category. The 2013 awards were based on votes submitted worldwide at Spafinder.com.
"It is an enormous honor to receive this award for the third time in three years," said David Erlich, spa director at Spa of the Rockies. "Of course, it's gratifying to be recognized within the spa industry, but most especially by our clients. Our mission is to help our guests feel better. We strive to accomplish this by providing unsurpassed quality services and by adding value in unexpected ways to almost every treatment we offer."
Guests at Spa of the Rockies can look forward to several surprises during their visits. Depending on the treatment booked, many visitors are invited to take a "scent journey," which allows them to customize the aromas to be used in their treatment according to their personal preferences. Best of all, the spa's scent journey is a complimentary add-on to nearly all Spa of the Rockies massage and body treatments.
Another surreptitious surprise awaiting visitors is the soothing mineral spring water footbaths they receive as a prelude to their treatments. "The geothermal healing tradition is deeply integrated into the identity of the brand," said Erlich. The water is collected by spa staff at the Yampah Spring, the name of the mineral spring's source. The footbath introduces guests to the benefits of hydrotherapy and sets the tone for a comforting and holistic spa experience.
Rather than a once-in-a-while special treat, Erlich believes spa services should be a part of regular self-care, and Spafinder concurs. "We believe that keeping well is not a luxury, but a necessity for people to live their fullest and best lives possible," said Mia Kyricos, Spafinder Wellness, Inc.'s chief brand officer. "Our passion is to provide meaningful resources, like our popular Readers' Choice Awards, that give consumers a chance to vote and share their love for favored wellness destinations with one another."
Voters were asked to cast ballots only for locations they've personally visited within the past three years. Awards went to the top hotel, destination and resort spas across 44 countries and regions, and category honors were awarded to the top 10 spas and wellness locations in 26 unique classifications, including Best Mineral or Thermal Spring Spa. The 2013 Readers' Choice Awards attracted an unprecedented level of worldwide consumer participation, providing the most comprehensive consumer assessment of the global spa and wellness market available.
About Spafinder Wellness 365™
Spafinder Wellness 365™ is a division of Spafinder Wellness, Inc.®, the world's largest media, marketing and gifting company for the wellness industry. With over 25 years of experience as a spa and wellness authority, the company guides the industry, partners, consumers and employers with the most comprehensive resource for wellness-related products, services and insight in the marketplace. Millions of people find inspiration to keep well every day via the Spafinder brand family, also known for its widely distributed gift cards, available at 70,000-plus retailers worldwide, and a global network of 20,000-plus spas, salons, fitness, yoga and Pilates studios and travel destinations. Learn more at Spafinder.com.
About Glenwood Hot Springs
Glenwood Hot Springs is a 125-year-old Colorado landmark resort located along Interstate 70 at Glenwood Springs, approximately 165 miles west of Denver and 90 miles east of Grand Junction. Famous for its enormous hot springs pools, other amenities include Spa of the Rockies, the Glenwood Hot Springs Lodge, an athletic club, a restaurant open for breakfast and lunch, a retail store specializing in swimwear and a miniature golf course, open seasonally. For more information, including press releases, a press kit, photos and a live web camera, please visit http://www.hotspringspool.com/misc/press-room or call 800-537-SWIM (7946) or 970-947-2955.
Media Contact:
Jeremy Gilley, Director of Sales and Revenue
Glenwood Hot Springs/Spa of the Rockies
970-945-3324
jgilley(at)hotspringspool(dot)com
or
Vicky Nash
Resort Trends, Inc. – media communications for the travel & tourism industry
970-948-4923
pr(at)hotspringspool(dot)com