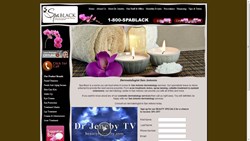 As a part of the introductory offer, we are giving 50 percent discount on eyelash refill.
San Antonio, TX (PRWEB) September 22, 2013
Spa Black is offering a discount of 50 percent on eyelash refill for the month of September. The regular cost of this cosmetic procedure is between $100-150.
One of the company executives said, "As a part of the introductory offer, we are giving 50 percent discount on eyelash refill. Generally, eyelash extension costs somewhere between $100-150. The exact price is based on the lash growth and is determined by the aesthetician. We provide you the healthiest, award winning, long-lasting, medical-grade lash extensions. Spa Black has a wide range of colors, textures and sizes to suit your personality and give you that look you always longed for. We have subtle, natural looking eye lashes for regular use as well as glamorous and trendy ones. Our aestheticians make sure that each lash application is a work of art with an intricate finish."
Spa Black also provides eyelash application education and training to its talented & dedicated lash artists. The lashes used by the spa are weightless, wonderful and transformative. The medical spa is known to offer superior quality products and services to its clients. The center uses best technology for helping its clients fulfill their aesthetic dreams.
"Eyelash extension is one of the easiest ways to get those pretty lashes that you always wanted. The procedure gives you longer and fuller lashes for wider and more beautiful eyes. The lashes are meticulously applied, bonded with superior quality medical grade adhesives. The cosmetic procedure is done by certified professional only," added the executive.
Spa Black is a name to count on when it comes to finding a dermatologist in San Antonio. The professionals leave no stone unturned to make sure that their clients get the best cosmetic procedures. Other services offered by this medical spa include acne treatment, botox, spray tanning, and cellulite treatment.
About Spa Black:
Spa Black is an year old medical spa based in San Antonio. The center helps its clients in achieving their aesthetic dreams through its transformative cosmetic procedures. Spa Black helps men and women of all age groups through their skin troubles. It offers spa like atmosphere with medical results. To have a look at weight loss in San Antonio, click here.
Contact Details:
Spa Black
7272 Wurzbach Rd, Unit 804, San Antonio, TX 78240
Phone: 210.615.6625
Fax: 210.270.8988
Website: http://spablack.com/