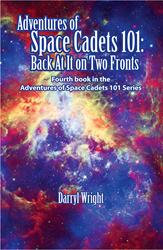 Brilliant! Better than any sci-fi movie or book I have ever read. It was action-packed.
Elizabethton, Tennessee (PRWEB) July 15, 2015
'Back At It on Two Fronts' is the fourth book in Darryl Wright's 'Adventures of Space Cadets 101' series. It picks up the story of the Houston family – three brothers and two sons – as they travel through space with their Cadets. They battle aliens, make alliances, and struggle to save humans and their allies from destruction – even when they have to fight against Earth Defense at times.
Since Wright is disabled by a crippling disease, the army veteran can no longer engage in real-life battles except against the pain that constantly wracks his body and in his imaginary characters. "I was an army brat and a small kid. I wore military glasses. We were always moving, and I could never seem to make new friends quick enough. In school bullies beat me up. I guess I just wanted to be a super-hero who could perform extraordinary feats," said Wright.
In his action and adventure science fiction, Wright created a super-hero of Mexican descent who saves the United States. "You never see Hispanics as heroes in films or even commercials," says Wright. The main characters in his books, Derek Houston, and his son, Kirk, are those Hispanic stars – as are Houston's two brothers, based loosely on Wright's own two adopted brothers.
Aaron Ross from Prairie City, Iowa, says, "'Back At It' was awesome and non-stop action."
Ramon Sanchez says, "Brilliant! Better than any sci-fi movie or book I have ever read. It was action-packed."
Wright is a prolific author. Since his first e-book was released in 1992 through Waldenhouse Publishers, Inc., he has written seven of his 'Adventures of Space Cadets 101' series: 1. Space Pirates, Allies and Aliens; 2. Invasions; 3. Weddings. 4. Back At It on Two Fronts, and 5.Captain Kirk… Houston. The sixth book, 'Isis,' is to be released in July 2015, and the seventh, 'Rhumans,' is in production. In addition, his short story 'Dark Black Friday' and songs, 'Volume I: Songs and Poems,' are both available as free pdfs at http://www.waldenhouse.com.
Author Bio
Darryl Dean Wright grew up as a military brat until he enlisted in the United States Army in 1980. He graduated from Robinson High School in Tampa, Florida, the same year. Darryl has lived in almost every state of the US and in many countries around the world, though his imagination thrives in outer space. His household includes not only his son but also his wonderful mother in Elizabethton, Tennessee.
About eBookIt.com
Since 2010, eBookIt.com (based in Sudbury, Massachusetts) has helped thousands of authors and publishers get their books converted to ebook format, and distributed to all the major ebook retailers, including Amazon.com, Barnesandnoble.com, Apple iBookstore, Kobo, Sony Readerstore, Ingram Digital, and Google eBookstore.
###