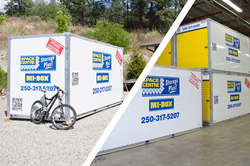 [MI-BOX®] has been really popular. Once you give customers the option, they find it has opened their eyes to how much time and money they will save.
Kelowna, BC (PRWEB) February 10, 2016
When Space Centre Storage began offering the Kelowna storage containers known as MI-BOX®, they had reason to believe it would be a successful addition to their business. The results have been even more promising than anticipated.
In less than two years, the Space Centre Storage has had to double its inventory for these 8x16-foot portable storage units to keep up with demand. After starting with 60 of the mobile containers in 2014, they recently ordered in a new shipment from the US, bringing their total number of MI-BOX® containers to 135.
"We're pleasantly surprised," says Yvonne Rogers, Operations Manager at the Space Centre Storage. "It's been really popular. Once you give customers the option, they find it has opened their eyes to how much time and money they will save."
One of the primary aspects driving the demand for Kelowna storage containers is the Okanagan real estate industry. Homeowners are beginning to realize the benefits of these units and are now using them to make moving more convenient.
First, these containers remove a lot of stress for people who are moving because they can be delivered to their property in advance of their moving day. This allows them to pack the container ahead of time, instead of having to race and do it all on their moving day.
"The convenience of the professional delivery service and perfect size allow you to pack and load at your leisure, and either store it on your property or have it stored in our climate-controlled warehouse," says Rogers. "It's moving made simple."
Kelowna storage containers also help with another important aspect of real estate: home staging. By de-cluttering their houses, homeowners are better able to showcase their properties to potential buyers. MI-BOX® containers provide an ideal storage solution, as they can be kept on the customer's property or transferred to a Kelowna self storage centre.
"We often recommend a storage container because we ask our clients to prepack," says Tracey Vrecko, a Kelowna realtor with Quincy Vrecko & Associates. "You're making your closets look larger and storage spaces look bigger. It can make quite a difference."
Vrecko notes that mobile storage containers are usually a more affordable option than hiring a professional moving company, especially if people aren't able to move straight into their new homes.
"Storage containers are good when your possession dates aren't lined up," says Vrecko. "If you have any time in between, the storage charge for a professional mover is a lot higher because you're tying up a whole moving van."
A storage container, on the other hand, can be placed temporarily at a Kelowna self storage centre, and then delivered to the new address when the time is right.
Rogers adds that MI-BOX® portable containers are useful for homeowners who are downsizing, renovating their home, storing seasonal belongings, or for short-term moves from one location to another.
About Space Centre Storage
Space Centre Storage in Kelowna has been providing Okanagan storage solutions since 1985. Residential storage services include self storage in a variety of units, the MI-BOX® portable storage containers, moving supplies, mailboxes and indoor and outdoor RV & boat storage. Space Centre Storage also offers commercial lease space, mini-warehousing, and forklift and load docks for business customers.
For more information, please contact:
Yvonne Rogers
Operations Manager
Space Centre Self Storage
yvonne[at]spacecentrestorage[dot]com
250-765-4125
http://www.spacecentrestorage.com