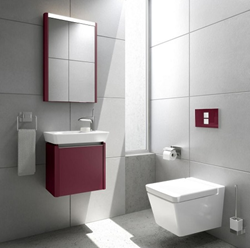 Wall mounted fixtures are iconic of modern bathroom design, but these and other modern features do double duty as convenient space savers in a small bathroom.
(PRWEB) August 27, 2014
HomeThangs.com – the Online Home Improvement Store has made their goal to deliver the right product to the consumer. With that in mind, shopping and home design tips, as well as special product selections are being introduced.
There's all kinds of advice out there about how to save space in a small bathroom, like what fixtures to choose and unique features to include. All too often, though, the style of the bathroom itself is left out of the conversation, despite the fact that different design styles can have very different options in terms of furnishings and fixtures. Many of the most iconic features of a modern bathroom, for example, also happen to be great space-savers, and HomeThangs.com has introduced a guide to a few modern fixtures that really shine in a small bathroom.
Wall mounted bathroom vanities are all sleek lines and simple geometric shapes, a perfect pair for a very modern style bathroom. But they also tend to be very efficiently designed, with well-sorted, easily accessible storage and a compact footprint that makes them an outstanding option for a small bathroom. Unlike some of the options on this list, wall mounted bathroom vanities can work with a slightly more contemporary style bathroom, depending on the finish, but by and large this style is limited to bathrooms that skew modern.
The same goes for wall mounted bathroom sinks. Sleek, sculptural porcelain sinks are a daring alternative to a conventional vanity and are often used as statement pieces for a very modern bathroom. But even relatively large wall mounted sinks are still smaller in all dimensions than a typical bathroom vanity, meaning they both save space and make the bathroom they're in feel larger and more open. Because these sinks lack any built in storage, they can be a better option for a guest bath than a master bathroom, but combined with other modern storage options, these sinks can work well even in a high-traffic bathroom.
In a very modern bathroom, even more unusual fixtures, like the toilet, can be mounted to the wall as well. Wall mounted toilets would look out of place in all but the most modern bathrooms, but not only can they visually open up the bathroom, they also take up quite a lot less space than conventional models. Since they require less horizontal clearance than traditional toilets, they offer more wiggle room in terms of design layout, too.
Wall mounted storage cabinets are another great, very modern alternative that's ideal for a small bathroom. While most traditional storage cabinets are large and freestanding, modern versions are much smaller and sit almost flush with the wall, so they take up far less space and often no floor space at all. That means they can be used even in the smallest bathrooms, and use parts of the wall that would otherwise be left blank.
Modern bathroom design also provides a little more wiggle room in terms of choosing an interesting or unusual bathtub. Most traditional tubs are simple and rectangular; they might vary a little in terms of size, features, or detailing, but even clawfoot tubs come in only a few standard sizes and shapes. Modern freestanding bathtubs, on the other hand, can be spectacularly sculptural, with unusual shapes and designs, including some tubs designed to take up less space than a more traditional tub with a similar capacity.
Modern design is all about open, barrier-free spaces and uninterrupted lines. Usually, that means big, sprawling modern bathrooms or even removing the wall between the bedroom and bath in a large master suite. But a barrier free design can be a boon for small bathrooms, too. Instead of compartmentalizing the bathtub and shower, which can make a small bathroom feel crowded, a more modern option is to do away with the shower enclosure entirely and build an open shower or wet bathroom instead. That way, the whole bathroom becomes one big shower stall, making the space feel wide and open, even if the bathroom itself is relatively small.
For more tips and tricks about using a modern style to save space in a small bathroom, check out the full article here.
HomeThangs.com is not only a home improvement superstore, it also provides expert design tips and a comprehensive shopping guide, taking the ideas from professional interior designers, and offering tips to the consumers on how to pick the products to best suit their needs.