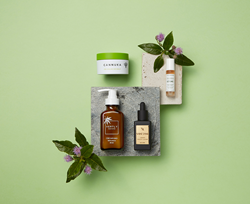 It's an omni-channel approach. We're launching CBD in all nine of our freestanding boutiques across New York and California, online at spacenk.com and we'll be expanding into additional Space NK Bloomingdale's shop-in-shop doors this September
NEW YORK (PRWEB) August 08, 2019
"At the core of who we are, we always aim to curate our assortment across all categories while also doing our due diligence around the category to ensure we meet our customers needs. We took our time to research and vet each brand we onboarded and truly believe they will perform well for us," said Noah Rosenblatt, Space NK President, North America. "It's an omni-channel approach. We're launching CBD in all nine of our freestanding boutiques across New York and California, online at spacenk.com and we'll be expanding into additional Space NK Bloomingdale's shop-in-shop doors this September," noted Rosenblatt.
Launching at Space NK this August include skincare brands, Saint Jane, a 100% clean and high performance brand and Cannuka, a skincare brand that combines the powerful properties of Cannabis and Manuka Honey. Under the body care category, Space NK will launch Vertly, a brand that approaches CBD like a vitamin, inviting smaller amounts to be absorbed into the skin through daily use. Additionally, Highborn who combines essential oils and whole plant CBD extract will launch under the fragrance category. A CBD haircare brand will be launching later this fall.
Space NK stores will regularly host experts and founders from the featured brands to continue educating their customers on the CBD beauty category.
The CBD range is available now at all nine Space NK freestanding doors in NY and CA. Next month, Space NK will begin expanding the CBD range in select Bloomingdale's shop-in-shops.
About Space NK
Starting out as a single store in Covent Garden in 1993, Space NK has become the ultimate destination for beauty discovery – home to 69 stores across the UK and Ireland as well as 41 locations in the US including free-standing stores and boutiques at Bloomingdale's and Nordstrom.
In our stores and online, you will find a finely-honed edit of the most innovative products in the beauty world, including super-charged skincare, cutting-edge cosmetics and game-changing gadgets. This unique selection comprises over 70 brands, including Eve Lom, Byredo, Diptyque and more.
Delivering a personal and bespoke service is of the utmost importance to us, and our team of highly trained makeup artists and skin and hair care specialists is devoted to offering well-informed, unbiased advice on the products and distinctive experiences tailored to your unique needs.
To learn more visit spacenk.com
@spaceNKUSA #DiscoverSpaceNK