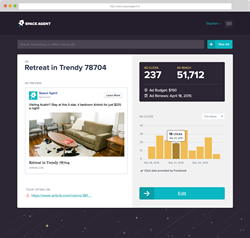 For vacation rental owners who want a simple and effective way to drive more guests, Space Agent is digital marketing made easy
Dallas, Texas (PRWEB) May 12, 2015
Space Agent™ today announced the launch of a new online advertising service that helps vacation rental owners, hosts and property managers attract more guests by expanding the reach of their Airbnb, HomeAway or VRBO listings to highly targeted audiences on social ad platforms.
Space Agent is easy to use, cost-efficient and requires little to no online advertising experience. Owners enter the web address of their vacation rental listing, select budget and approve ad copy. Space Agent then creates and runs the ad to a highly targeted audience, providing real-time ad performance results in a campaign dashboard.
Space Agent advertises on social networks using specialized ad targeting technology that drives interested travelers directly to the listing. Using machine learning, Space Agent discovers and targets likely guests with interests such as events, vacations or attractions near the property owner's location. This reach extension gives the listing significant exposure beyond its listing on Airbnb, HomeAway or VRBO.
"I love not having to wait for guests to find me," said Stewart Browning, an Airbnb host in Austin, Texas. "In my first week running an ad on Space Agent, my listing views have doubled and I've had four new reservations. It's a brilliant idea that works."
"Most owners are not digital marketing experts," said Matt Sommer, Founder and CTO of Space Agent. "The time and experience necessary to run truly successful ad campaigns is significant, so for owners who want a simple and effective way to drive more guests, Space Agent is digital marketing made easy."
Sommer added: "By abstracting the complexity that makes social advertising really work, Space Agent has the potential to revolutionize the vacation property rental marketplace. We're helping to connect more qualified renters with owners, resulting in increased bookings and a lot more revenue."
Space Agent is available now for Airbnb, Homeaway, and VRBO users. More property rental sites will be coming soon.
About Space Agent
Space Agent is a wholly owned subsidiary of MarketChorus, built to bring its audience intelligence technology to the property rental marketplace. MarketChorus applies data science to digital advertising – identifying real-time audiences based on interests and attention expressed across the open web. Space Agent was founded in Dallas in 2014, and was created by MarketChorus' experienced team of entrepreneurs that build business solutions using machine learning and natural language processing. For more information on Space Agent email info(at)spaceagent(dot)io or visit http://www.spaceagent.io.