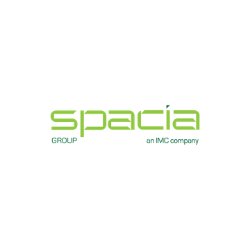 "Not only have we brought on significant market share, but we've also retained it," says Matt Sepsey, VP of Sales & Marketing. "The longevity of our craftsmen and women is a testament to Spacia Group's leadership, as well as the loyalty and passion of our team."
LOUISVILLE, Ky. (PRWEB) July 18, 2019
Spacia Group, a manufacturer of custom interior decor and provider of art & sourcing consultation, has doubled its sales team and increased revenue by 40% thanks to new marketing strategies initiated by a growing management team.
Spacia Group has been providing custom framed art, decorative and backlit mirrors, art and sourcing consultation, and custom barn doors to the hospitality, healthcare, and corporate markets since 1993. Based in Louisville, Kentucky, Spacia Group was founded by husband-and-wife team David and Sonya Stewart. Initially, the company targeted just the southern region of the United States. Over the past 25 years, but particularly in the past twelve months, Spacia Group's sales team has spread across 90% of North America.
"Not only have we brought on significant market share, but we've also retained it," says Matt Sepsey, VP of Sales & Marketing. "The longevity of our craftsmen and women is a testament to Spacia Group's leadership, as well as the loyalty and passion of our team."
Sepsey says the biggest milestones in the past twelve months were the people they've onboarded. Art Director Tricia Biagi brings over 25 years of experience in the design industry, having worked with Fortune 500 companies to develop global brands. Abby Papenfuss, a local Louisville interior designer, was brought on as Client Account Manager. Having previously worked on the client-side of the industry, Papenfuss offers a unique perspective to ensure sales and client satisfaction.
Jacqueline Back, Marketing Manager, joined the team in November of 2018. Sepsey largely credits Back with the company's increased exposure and engagement. Under Back's management, social media engagement for Spacia Group increased by 220%. Back developed a new series of branded marketing materials, which sales representatives now use as tools to engage prospective clients.
"In just 6 months, Back has learned our industry and established strong, genuine relationships with our clientele," says Sepsey. "She's given invaluable support for Spacia Group's marketing and creative direction, developing marketing tools that give us relevancy in the industry."
Back has worked closely alongside Hatfield Media, Spacia Group's contracted web designer, to create an all-new, innovative website. "The new website has a refreshed forward look and reflexes the new direction of Spacia," says Sepsey. "We are excited about the bright future at Spacia."
Sepsey says the hiring process was competitive, analyzing candidates for their business acumen and ability to comprehend the industry. Spacia Group values cultivating an empowered team who are customer-interactive, energetic and personable.
"I live by the motto, 'I'm only as good as the people around me,'" says Sepsey. "The talent we've brought on was hired to double the business in 3 years. We are 2 years away and on track."
Spacia Group provides custom decor and art and sourcing consultation to the hospitality, healthcare, and corporate markets. Privately held, the company is a nationally certified woman-owned business and is a prime resource for decorative artwork framed and backlit mirrors, and sliding barn doors. Spacia Group is always improving techniques and methods to deliver a superior product at a fair and affordable price. To browse their portfolio of work and learn more about their services, visit spaciagroup.com
Media Contact:
Ashley Shadburne, Director of Marketing
hatfieldmedia.com
ashley@hatfieldmedia.com