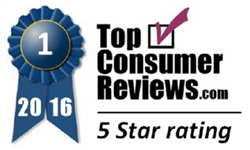 Rocket Spanish is effective, well-rounded, and affordable, and we are pleased to make them our top pick for Spanish Lessons.
Overland Park, KS (PRWEB) November 30, 2016
TopConsumerReviews.com recently gave a best-in-class 5 star rating to Rocket Spanish, a leader among online providers of Spanish Lessons.
Spanish is second only to English when it comes to usage in the United States. For decades it has been the most popular foreign language taught in public schools, and with an ever-increasing number of immigrants from Spanish-speaking countries, it's easy to see why learning Spanish is a smart idea. For those who don't have convenient access to a classroom setting, there are a number of companies that offer Spanish Lessons that can be studied at home, on a laptop, or even through audio lessons on CD or downloaded as MP3 files. Learning Spanish has never been more accessible or affordable.
"For more than ten years, Rocket Spanish has been helping people master the language," according to Brian Dolezal of TopConsumerReviews.com, LLC. "With three available levels of instruction, Rocket Spanish can easily take you from beginner to intermediate fluency if you're new to studying Spanish, or you can opt to start at a more advanced level of study if you've already had some experience. Each of Rocket Spanish's three levels include more than 30 interactive audio lessons, language and culture lessons, flashcard sets, and thousands of voice recognition phrases, making it a truly comprehensive course of instruction. And, best of all, Rocket Spanish not only offers a free trial but also a 60-day money back guarantee, ensuring that students can try their program risk-free. Rocket Spanish is effective, well-rounded, and affordable, and we are pleased to make them our top pick for Spanish Lessons."
To find out more about Rocket Spanish and other providers of Spanish Lessons, including reviews and comparison rankings, please visit the Spanish Lessons category of TopConsumerReviews.com at http://www.topconsumerreviews.com/learn-spanish/.
About Rocket Spanish
Rocket Languages is one of the world's leading providers of online learn-a-language software packages. Setting themselves apart from the competition by placing a strong and immediate emphasis on what they call conversational learning, their dynamic learning courses have students speaking the language in a modern, fun, and conversational manner right from the start. Originally starting with Rocket Spanish in 2005, Rocket Language has expanded to include Arabic, German, Hindi, Korean, and American Sign Language, among others.
About TopConsumerReviews.com
TopConsumerReviews.com, LLC is a leading provider of independent reviews and rankings of hundreds of consumer products and services. From Spanish Lessons to Passports and Travel Insurance, TopConsumerReviews.com delivers in-depth product evaluations in order to make purchasing decisions easier.