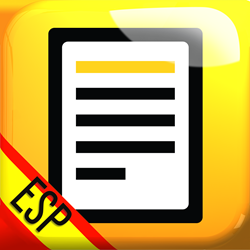 "Por primera vez, los hablantes de español pueden disfrutar de la misma facilidad de teleprompting que los hablantes de inglés." -Eric Sadkin, Fundador Y CEO
New York, NY (PRWEB) November 29, 2016
PromptSmart, the highest ranked iOS teleprompter app with hundreds of 5-star reviews for iPad and iPhone is excited to announce the release of its new Spanish version called PromptSmart ESP.
Just in time to support the teleprompting needs of our users during holiday parties and charity circuits, now Spanish speakers can enjoy the same top public speaking experience as they could with PromptSmart Pro, the English version. This app fully translates and offers features of Pro including the VoiceTrackTM, which uses proprietary speech recognition technology to automatically scroll the script.
Founder and CEO Eric Sadkin on PromptSmart ESP: "We have consistently heard the requests from our users for a Spanish option and are delighted to offer PromptSmart ESP. For the first time, Spanish speakers can enjoy the same teleprompting ease."
PromptSmart ESP is offered for sale on the iOS app store for $11.99, and is also included in a bundle with PromptSmart Pro for users who would like both Spanish and English apps.
PromptSmart also released this week a highly anticipated update to PromptSmart Pro.
About PromptSmart:
PromptSmart has grown to a family of the most preeminent iOS public speaking aid/ teleprompter apps available: PromptSmart Pro, PromptSmart Lite, PromptSmart ESP, and PromptSmart Pro Remote Control. With patent-pending VoiceTrackTM speech recognition technology underpinning the platform, the PromptSmart apps seamlessly follows spoken words and pauses during a speech, adjusting the speed of scrolling text in real time based on the speaker's actual words and pace – all without the need for a data connection. Because the speaker is in total control over the scrolling, PromptSmart delivers a more intuitive experience than even traditional teleprompters and needs no speed calibration. PromptSmart also includes a digital notecard feature for speakers who prefer to leverage notes/ outlines rather than fully written speeches.
PromptSmart is the ultimate presentation companion for anyone getting up in front of a crowd or using a script: public figures, business leaders, broadcasters/ field reporters, social media personalities, clergy, students, lecturers, video producers/ actors, or even bridesmaids and best men!
PromptSmart ESP is available now on the Apple app store here
PromptSmart Pro is available now on the Apple app store here
For additional information on PromptSmart, visit http://www.PromptSmart.com, like PromptSmart on Facebook, and follow @PromptSmart on Twitter.
Contact:
team@promptsmart.com