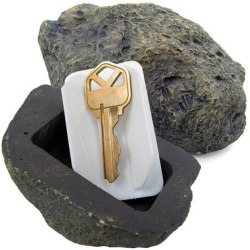 Many homeowners leave spare keys outside their home in case of an emergency, it is important to ensure that a safe spot in chosen to avoid becoming a victim to home robbery.
Portland, Oregon (PRWEB) October 17, 2013
Spare keys: an inevitable part of life for many residents of homes and apartments. Many people have either forgotten their keys themselves, or have a child, family member, or employee who has lost or forgotten a house key. Spare keys can provide value and convenience, but unfortunately, they can also provide a prime opportunity for potential thieves to enter a home, and increase the odds of a burglary.
The security professionals AlarmSystemReport.com, a leading alarm system review site, providing reviews of the best wireless alarm systems in the country, created a list of tips that can help residents hide spare keys more creatively, and avoid being targeted by burglars.
1. Hide spare keys either on a dog, or inside a dog's house. Most burglars do not want to deal with animals, even animals that look to be docile, so they're going to avoid them at all costs in most cases. Homeowners could attach the spare key to their dog (as long as it lives outdoors), or store the key in a well hidden spot within a dog house.
2. Spare keys can be hidden within the lip that's located on vinyl siding. It's unlikely that a burglar will find a key that's hidden in siding, but just to be sure, homeowners can move its location to different pieces of siding on a regular basis.
3. For homeowners who want to leave their keys outdoors, it may be a good idea to switch keys with a neighbor. This way, even if a burglar does find the key, it will be more difficult to figure out which house the key belongs to.
4. Hide spare keys in zippered patio furniture covers. This will only work for a particular type of patio furniture, but it is a very effective way to have easy access to a well hidden key.
5. Hide spare keys in the back of a home, versus the front. If a homeowner is constantly retrieving a spare key from a particular location that can be viewed easily from the street, it means a burglar could be watching their actions, and find the key, no matter how tricky the hiding spot.
6. Although it can be safe to leave a spare key with a neighbor, it's important to remember that the neighbor may not be available when you need the key the most. Also, the neighbor should be someone that is highly trusted, to avoid having the key get into the wrong hands.
About AlarmSystemReport.com
AlarmSystemReport.com is the leading independent provider of information about the home alarm industry. The site provides reviews and comparisons of top alarm companies, along with industry news, tips and updates. AlarmSystemReport.com also offers consumers the opportunity to access valuable alarm system discounts