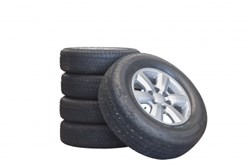 The tires that are featured in preowned condition online are supplied through our growing network of secondary market sellers in North America
Columbus, OH (PRWEB) December 21, 2013
American consumers who experience blowout or other tire issues often use retail shops to find tire replacements. The Auto Pros company has now added spare tires for sale on its secondary market resource website at http://autoprosusa.net/spare-tires-sale.
These tires are meant to provide a source for a replacement for average vehicle owners, mechanics or other buyers of front or rear tires for American or foreign vehicles. New distributors in the automotive industry are used to help supply the Auto Pros company with nearly every type of spare tire used in the U.S.
Each tire now marked for sale in the company inventory can be researched by using the search locator installed on the company website. The configuration of the system has helped to present the company inventory to buyers this year in a faster manner.
An update to the system to help with tire price distribution is the quotes feature buyers can now use online. This allows immediate display of prices that are prepared by all company suppliers with inventory in stock.
"The tires that are featured in preowned condition online are supplied through our growing network of secondary market sellers in North America," said a source from the Auto Pros company.
The retail prices for replacement automobile tires frequently changes each year based on the cost for rubber and other materials used in manufacturing. The editions that are available to automobile owners on the second hand market could be a less expensive purchase compared to retail prices auto parts supply shops charge.
"The growing inventory of tires and other auto parts that any buyer can research online using our resource is managed daily by company staff to present accuracy in pricing and stock status," the source confirmed.
The AutoProsUSA.com company website is now featuring the quote system for all parts online as well as a toll-free number for contact. Researchers and buyers of company inventory can choose to receive quotations in price using these new methods this year.
About AutoProsUSA.com
The AutoProsUSA.com company maintains one of the largest resources in the second hand parts industry to find parts discounted below average dealership retail list pricing in the U.S. This company has connected hundreds of secondary sellers inside its database system online now used by thousands of consumers daily. The AutoProsUSA.com company resources include online parts lookup for prices and stock status as well as securing rates for insurance policies from North American companies. All providers that exists in the company inventory are added to routinely to expand parts offerings for buyers.