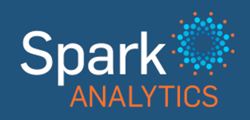 Stop by the Spark Analytics booth (#321) at the NRF show to meet Tom Coughlin and the Spark Analytics team, and view our new enhanced predictive technology that helps retailers and restaurants improve their gross margins.
SCOTTSDALE, Ariz. (PRWEB) January 12, 2016
Spark Analytics, a leading provider of cloud-based predictive and prescriptive analytic solutions for the retail and food service industries, has announced that Executive Advisor Tom Coughlin will represent the company at the 2016 National Retail Federation (NRF) "Retail Big Show" in New York City Jan. 17-20, 2016. Coughlin, the former vice chairman of WalMart and CEO of Sam's Club, will host a discussion titled "How to Win in Retail: Secrets from a Leader" all three days, open to all interested show attendees.
Coughlin, a legend in the retail industry with broad operational knowledge and expertise in loss prevention, predictive software and corporate personnel training, will share his insights on the future of retail to show attendees who visit the Spark Analytics Booth #321, and at his scheduled discussions on Sunday, Jan. 17 from 2:30-3:00 p.m., Monday, Jan. 18 from 4:30-5:00 p.m., and Tuesday, Jan. 19 from 4:30-5:00 p.m. EST.
Spark Anlaytics will join more than 3,500 retail and hospitality corporations, including Adobe, Honeywell, IBM, Microsoft, Panera, Toshiba, Home Depot, Hermes and others for the 2016 NRF Retail Big Show. The massive, 22,000 square foot expo, to be held at the Jacob J. Javits Convention Center in Manhattan, is designed to showcase the future of retail and associated technology and radical solutions for industry breakthroughs. Attendees will also have access to industry experts and next generation leaders.
Spark welcomed Coughlin as an executive advisor in September, 2015 to help with the company's ongoing product development efforts. Spark Analytics President Ken Claflin says that Coughlin's expertise is helping the Scottsdale, Arizona-based company drive best practices, both internally and in the field, to help clients gain the most from its ever-evolving cloud-based predictive and prescriptive analytic solutions for retailers and food service companies.
"We invite everyone attending the NRF show to stop by the Sparks Analytics booth (#321) to meet Tom and our team, and view our new enhanced predictive technology that helps retailers and restaurants improve their gross margins," Claflin says. "We also welcome attendees and participating businesses to contact us to schedule a time to meet with us."
For more information, visit the Spark Analytics NRF Show website, email sales(at)sparkanalytics(dot)com, or call 1-800-477-8729.
About Spark Analytics:
Founded in 1989, Spark Analytics provides cloud-based analytics for more than 12,000 retail, restaurant and hospitality businesses worldwide. Spark Analytics' industry-leading analytical tools help owners and managers gain visibility into their operations and help improve employee behavior by delivering recommendations to the field. Users improve their operations and increase margins quickly and efficiently with one easy-to-use dashboard.
Spark Analytics specializes in operations solutions, inventory solutions, marketing solutions, analytic solutions, proactive loss prevention solutions, video and POS integration solutions, and upsell solutions.
About Tom Coughlin
Tom Coughlin began his retail industry career with WalMart in 1978 in the company's security division and later became Wal Mart's vice president of human resources. From January 1998 to January 1999, he was executive vice president and CEO of the flagship Wal-Mart Stores division. In 2002, Coughlin was elected to the WalMart Board of Directors and named CEO for Sam's Club USA, and in 2003, he was named executive vice president and vice chairman of Wal Mart Stores, Inc.
Coughlin's longtime retail business career earned him accolades for his ability to build strong relationships with WalMart associates in the field and develop his knowledge of business operations, corporate personnel, training and loss prevention. He succeeded in building the Sam's Club division from only five clubs to more than 400, and from a couple hundred million to $18 billion in volume in just seven years. From Sam's Club, Coughlin went on to run Wal Mart's Specialty Division, and after four years he became chief operating officer of Wal Mart before retiring in January, 2005. Coughlin, a close friend of WalMart founder Sam Walton, built a 27-year career with the retail giant, achieving the position of second-highest-ranking executive in a company of more than a million employees.
###