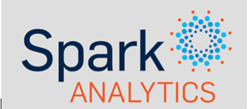 We're working to transform Spark Analytics into an operational excellence company.
SCOTTSDALE, Arizona, (PRWEB) October 14, 2015
SmartStore Business Intelligence Solutions, a leading provider of cloud-based predictive and prescriptive analytic solutions for the retail and food service industries, has announced the company's rebranding with a new name—Spark Analytics—a new website, a new look, and extensive product expansion/design updates. Six months in the making, the company's rebranding efforts included a roster of significant changes that combine new leadership, new product vision, new customer success strategies, and an influx of influential industry experts in key positions within the company.
Ken Claflin, an accomplished business technology and management expert in the retail and food service industries was named president of Spark Analytics in April. Claflin immediately set about recruiting new leaders with years of experience and proven track records in the retail, food service and technology industries.
The product enhancements incorporated into the rebranding include:

Two new analytics software suites:
1. The Food Service Suite adds marketing, operations and POS management analytics to the company's business intelligence software.
2. The Retail Suite includes operations, marketing and shrink management analytics to build smarter operations with more flexibility and efficiency in an environment of accelerating market shifts.
A large investment in user experience and design, as well as extensive operational analysis tools were also instrumental in the company's rebranding strategy.
"We've taken our loss prevention capabilities to the next level, adapting new
operational execution and test and learn algorithms, so that we can drive measurable gross margin improvements for our clients," Claflin says.
According to Claflin, the aim is to drive increased store margins and reduce costs to both retail and food service companies, while increasing awareness of the success of programs, such as promotional and loyalty offerings.
In addition to Claflin, the SmartStore / Spark Analytics rebranding operation brought in accomplished talent from the food service and retail industries, including Naini Mandala as VP of Business Development and Customer Success, former WalMart vice chair and Sam's Club CEO Tom Coughlin as Executive Advisor, and food service veteran Steve Crichlow as Executive Industry Consultant.
Ultimately, the rebrand efforts are designed to expand the company's software and analytic solutions, help improve sales, boost employee productivity and minimize losses for retailers, restaurants and food service providers. Claflin has lead this major expansion of the former SmartStore software's powerful underlying platform to improve its ability to help businesses with operational execution focused on in-store operations and marketing.
"Ours solution helps retail and food service managers gain visibility into individual employees' performance and store operations," Claflin says. "Our new, enhanced software provides users with greater insight into operational execution, so that managers can improve productivity and sales, boost margins and minimize losses.
"We're working to transform Spark Analytics into an operational excellence company."
Spark Analytics offers a cloud-based, user-friendly software solution that can be fully implemented in just a matter of weeks. With intuitive dashboards, the software analyzes data to provide valuable insight into a store's operations, allowing owners and managers to quickly and easily identify margin eroding patterns, and help them take action.
The company is focused on providing their customers with not only data analysis, but insights on how to use that data to deter future losses and improve profits.
For more information, visit the Spark Analytics website, email info(at)sparkanalytics.com, or call 602.559.9604.
About Spark Analytics:
Founded in 1989 as SmartStore Business Intelligence Solutions, Spark Analytics provides cloud-based analytics for more than 12,000 retail, restaurant and hospitality businesses worldwide.
Spark Analytics' industry-leading business intelligence tools help owners and managers gain visibility into their operations and help improve employee behavior by delivering recommendations to the field. Users improve their operations, reduce shrink and increase margins quickly and efficiently with one easy-to-use dashboard.
Spark Analytics specializes in operations solutions, merchandising solutions, marketing solutions, business intelligence solutions, proactive loss prevention solutions, video and POS integration solutions, and upsell solutions.
###