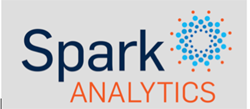 We're excited to have the opportunity to add Ruby Tuesday to our growing portfolio of restaurateurs.
SCOTTSDALE, Ariz., (PRWEB) December 22, 2015
Spark Analytics, a leading provider of cloud-based predictive and prescriptive analytic solutions for the retail and food service industries, has announced a new agreement with Ruby Tuesday Restaurant, Inc. to provide its cloud-based software solution to enable improvements in the areas of loss prevention, improved employee efficiency and customer service.
Spark Analytics' shrink management solution is designed to help restaurants and retail stores improve margins and operational effectiveness, based on the company's specific requirements. Spark Analytics' enhanced analytics technology will provide Ruby Tuesday with:

Dynamic reporting capabilities
Enhanced visibility for on-site operations and customer service
Workflow tools to ensure compliance
Monitored results to ensure improved gross margin
"We're excited to have the opportunity to add Ruby Tuesday to our growing portfolio of restaurateurs, and confident that we will be a valued and trusted collaborator in meeting their growth and profitability objectives," says Spark Analytics President Ken Claflin.
Spark Analytics creates value through insights, allowing businesses to act quickly in dynamic conditions, make better decisions in uncertain environments, to gain a strong competitive advantage.
For more information, visit the Spark Analytics website, email sales(at)sparkanalytics(dot)com, or call 602.559.9604.
About Spark Analytics:
Founded in 1989, Spark Analytics provides cloud-based analytics for more than 12,000 retail, restaurant and hospitality businesses worldwide. Spark Analytics' industry-leading analytical tools help owners and managers gain visibility into their operations and help improve employee behavior by delivering recommendations to the field. Users improve their operations and increase margins quickly and efficiently with one easy-to-use dashboard.
Spark Analytics specializes in operations solutions, inventory solutions, marketing solutions, analytic solutions, proactive loss prevention solutions, video and POS integration solutions, and upsell solutions.
ABOUT RUBY TUESDAY
Ruby Tuesday owns and franchises Ruby Tuesday restaurants. As of September 1, 2015, there were 734 Ruby Tuesday restaurants in 44 states, 12 countries, and Guam. Of those restaurants, Ruby Tuesday, Inc. owned and operated 656 Ruby Tuesday restaurants and franchised 78 Ruby Tuesday restaurants, comprised of 28 domestic and 50 international restaurants. Their company-owned and operated restaurants are concentrated primarily in the Southeast, Northeast, Mid-Atlantic, and Midwest of the United States, which they consider to be their core markets.