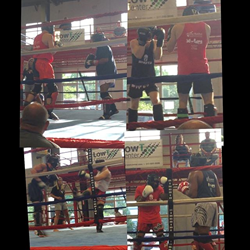 We at SPARTA are proud to help The Peyton Riekhof Foundation for Youth Hope further its mission in any way we can.
Fishers, IN (PRWEB) August 31, 2015
SPARTA is an elite training facility in Fishers, IN, that trains people to fight, whether in the boxing, karate or Muay Thai disciplines. However, SPARTA also helps others fight for life. On Saturday, August 1, SPARTA hosted a Fight for Life event at Fishers Fight Club, with a portion of the proceeds benefitting The Peyton Riekhof Foundation for Youth Hope, a non-profit organization whose mission is to raise awareness and education about mental health with the goal of reducing the risk of suicide for young people.
"This was a boxing and Muay Thai event, organized by a youth, with about ten matches where most fighters were novice, and it was their first time fighting in front of an audience," said Brian Griffitts, owner of SPARTA. "The turnout was great, with more than 200 people, and we raised $2,000 to help a very worthy cause."
The Peyton Riekhof Foundation for Youth Hope was created in the memory of Peyton Riekhof, a beautiful, smart and athletic daughter, sister, cousin, niece, granddaughter, friend and teenager whose depression was too much for her to handle and decided to end her life at the early age of 18 on July 18, 2013. The goal of her namesake foundation, is to help other youth who are dealing with mental health problems and reduce suicide and suicide attempts across the youth population.
"We at SPARTA are proud to help The Peyton Riekhof Foundation for Youth Hope further its mission in any way we can," said Brian. "We also encourage people to visit the foundation's website to donate or do whatever they can to help young people suffering with depression and help give them hope."
In addition to increasing awareness of the risk of suicide in youth with mental illness conditions, with a specific emphasis on depression, the foundation also increases the education on mental illness and suicide in community school systems by collaborating with the public and leaders in education and mental health to produce and advance initiatives and training. Additionally, it provides community services, programs, training and activities that provide youth and adults an open and comfortable place to discuss mental illness and suicide without fear of stigma.
To make a donation to The Peyton Riekhof Foundation for Youth Hope, please visit thepeytonriekhoffoundation.com/#!donate/ch96. Their crisis hotline is (800) 273-TALK or text "CSIS" to 85511.
About SPARTA
SPARTA (Speed, Power, Agility, Reaction, Training Academy) is committed to the overall improvement and inspiration of all those that seek to become their best in life as well as in their chosen sport. Its services include sport-specific coaching, performance training, fitness programs, sports counseling, facility rental, and much more. SPARTA believes that high-level coaching is critical for people to reach their potential and has a staff comprised of passionate and accomplished mentors that will take you or your athlete to the next level and beyond. For more information, please call (317) 842-2933, or visit the facility at 10080 East 121st Street, suite 157, Fishers, IN 46037.
About NALA™
The NALA offers local business owners new online advertising & small business marketing tools, great business benefits, education and money-saving programs, as well as a charity program.
Media Contact:
Tiffani Tendell
news(at)thenala(dot)com
805.650.6121, ext. 361