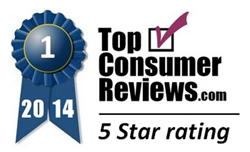 Spa Finder Wellness 365 is the go-to website for spa treatment needs.
Overland Park, KS (PRWEB) June 24, 2014
TopConsumerReviews.com recently awarded their highest five-star rating to Spa Finder Wellness 365, an industry leader in Spa Finder Services.
A day at the spa, an after work massage, a relaxing pedicure, or a much needed facial are all wonderful treats to give as a gift to a loved one. Because spa treatments are often costly, these gifts of self-indulgence are that much more appreciated. However, not knowing a person's spa or treatment preference can ruin the fun of receiving such a wonderful gift. Today, there are a number of spas available to choose from. However, a universal spa gift card means the gift recipient gets to choose where, when, and which spa services they want. This is the latest and greatest way to give someone a spa treatment.
"Spa Finder Wellness 365 is the go-to website for spa treatment needs," explained Brian Dolezal, of TopConsumerReviews.com, LLC. "Whether you're looking for the perfect gift card for a friend or loved one, or researching the best spa treatments, Spa Finder Wellness 365 is the top choice. In addition to an extensive selection of spas and spa services, the website is informative for anyone interested in improving their physical being. Combined with a focus on customer service, Spa Finder Wellness 365 receives our top 5-star rating."
To find out more about Spa Finder Wellness 365 and other Spa providers, including reviews and comparison rankings, please visit the Spa category of TopConsumerReviews.com at http://www.topconsumerreviews.com/spas/.
About Spa Finder Wellness 365
Founded more than 25 years ago, Spafinder Wellness, Inc., is the world's largest media, marketing and gifting company for the wellness industry. With a finger on the pulse of what's time-trending and what's time-tested, the company guides the industry, partners, consumers and employers with the most comprehensive resource for wellness-related products, services and insight. Millions of people find inspiration to keep well every day via the Spafinder Wellness 365 brand, also known for its widely-distributed gift cards available at 70,000-plus retailers worldwide and a global network of 20,000-plus spas, salons, fitness, yoga and Pilates studios and travel destinations.
About TopConsumerReviews.com
TopConsumerReviews.com, LLC is a leading provider of independent reviews and rankings of hundreds of consumer products and services. From spa services to sending flowers and jewelry stores, TopConsumerReviews.com delivers in-depth product evaluations in order to make purchasing decisions easier.