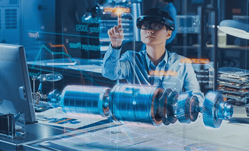 JUPITER, Fla. (PRWEB) October 12, 2021
Advancements series (hosted by Ted Danson) announces the upcoming airing of an episode slated to broadcast 1Q/2022.
Focusing on innovations and developments taking place in the technology space, viewers will discover how artificial intelligence (AI) and virtual reality (VR) are being used to improve spatial simulation technology.
With a look at Enklu's cloud-native SaaS platform, spectators will see how the technology helps people and businesses create spatial simulations for the latest AR and VR hardware.
"The most exciting thing about this technology is that it fades into the background and helps us be better humans: more creative, more connected, and more collaborative. And for the first time in history, everyone can participate in shaping the future," said Ray Kallmeyer, CEO, Enklu.
Audiences will learn how the technology lets anyone create virtual worlds and applications for education, entertainment, and enterprise without needing a degree in 3D engineering.
"Enklu's visual editor empowers designers to create, manage, and distribute spatial apps with no or low coding," said John Galvin, producer for the Advancements series. "This removes the content iteration bottleneck and can be the difference between success and failure in enterprise mixed reality development."
About Enklu:
Enklu is a people-first technology company founded in 2016 by video games industry veteran Ray Kallmeyer, with decades of world-building at companies like Sony and Ubisoft. Enklu's core technology resembles a live-action video game editor. As the market leader in cross platform immersive content creation, Enklu empowers creators at every scale – from hobbyist developers to marketing teams – bringing bold new ideas to life.
For more information, visit: http://www.enklu.com.
About Advancements and DMG Productions:
The Advancements series is an information-based educational show targeting recent advances across a number of industries and economies. Featuring state-of-the-art solutions and important issues facing today's consumers and business professionals, Advancements focuses on cutting-edge developments, and brings this information to the public with the vision to enlighten about how technology and innovation continue to transform our world.
Backed by experts in various fields, DMG Productions is dedicated to education and advancement, and to consistently producing commercial-free, educational programming on which both viewers and networks depend.
For more information, please visit http://www.AdvancementsTV.com or call 866-496-4065.