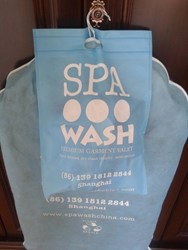 SPAwash is known for world-class service. Providing a greener service is another way SPAwash demonstrates its commitment to bringing Shanghai expats what they want.
Shanghai, China (PRWEB) August 02, 2013
Earlier this year, SPAwash dry cleaning service in Shanghai began providing customers with high-quality reusable packaging. The wasted packaging from dry cleaning and other consumables is one of the biggest negative impacts consumer businesses have on the environment. SPAwash not only provides these high-quality items, it incentivizes customers to return them with a credit for each reuse.
Starting August 1st, in response to some eco-conscious customers' suggestions, SPAwash began emailing all customer statements/invoices to reduce wasted paper. SPAwash further demonstrated its environmental commitment by joining Evergeen this year. Evergreen is a social enterprise that allows members to track eco-actions and earn green rewards.
China's rapid industrialization and increased consumption have had significant impacts on the environment, and many Shanghai residents have become increasingly concerned about these issues and ways they can personally help. SPAwash customers are actively participating in the recycling efforts. They have provided a lot of positive feedback, such as this note from one customer: "Congratulations on your recycling initiative – this is excellent and will ensure my continued support of your business. Well done and thank you for thinking of our environment!"
Since its founding in 2007, SPAwash's annual sales growth has been averaging 35% per year. During the first six months of this year, sales are up by about 50%. David Ho, SPAwash's owner, attributes much of this success to new customers who have been attracted to SPAwash's eco efforts.
About SPAwash: SPAwash was founded in 2007 to serve the dry cleaning and laundry needs of Shanghai's discerning expats. SPAwash offers a complete package of high-end dry cleaning and laundry services along with specialty services such as repairs, household item cleaning and personal valet service. SPAwash's equipment, fabric care expertise, quality control and environmentally-sound practices offer a unique customer experience for executives and families residing in Shanghai. More information can be found at http://spawashchina.com.