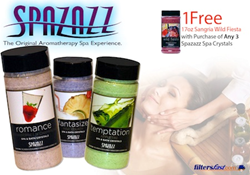 Take advantage of this Spazazz Spa Crystals Promotion by visiting FiltersFast.com or AcePools.com.
Charlotte, NC (PRWEB) August 13, 2014
With this limited time promotion, which ends August 31st, the FiltersFast.com family of super-sites, including AcePools.com would like to offer an extra incentive to relax and rejuvenate. When 3 bottles of Spazazz Spa Crystals (17 oz. or 19 oz) are purchased, 1 bottle (17 oz.) of the Sangria-Fiesta scent crystals will be given at no additional cost. Spazazz Spa Crystals are formulated with a natural blend of herbs and minerals to provide an aromatic and soothing spa experience. In addition, different formulations have been created to target particular ailments such as stress, sore muscles and respiratory therapy to name a few. Or select from a variety of scents. Options include Eucalyptus Mint, Verbena Lime Coconut, White Vanilla Jasmine, Honey Mango and many, many others.
FiltersFast.com and AcePools.com are committed to offering the highest quality products in the air, water and pool filtration industry. Take advantage of this Spazazz Spa Crystals promotion by visiting either website and stock up on other filtration items at the same time.
Since 2004, Filtersfast.com, the leading online retailer of air filters and water filters, remains the authoritative resource for consumers, regarding the importance of regular water and air filtration maintenance. In 2014, FiltersFast.com launched AcePools.com, to provide customers an affordable one-stop shop for all of their pool and spa filtration needs. For more information about the Spazazz Promotion, visit http://www.filtersfast.com or call their Customer Experience Department at 1-866-438-3458.