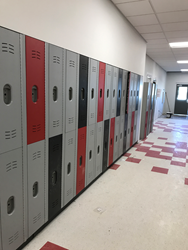 We toured a lot of facilities and everywhere we went the Duralife Lockers seemed to wear especially well. They feature a space-saving design but have surprisingly spacious storage inside.--Jack Vuylsteke, Principal
Scranton, PA (PRWEB) July 12, 2017
Memphis Rise Academy, Memphis, TN, has selected Duralife Lockers from Scranton Products to help expand its campus facilities with the grand opening of a new 40,000 sq. ft. ultra-modern high school. Dedicated to offering students in need in northeast Memphis with a quality, college-preparatory education, the charter school has rapidly grown from offering sixth grade classes to waiting list availability for grades six through nine in just four years.
According to Jack Vuylsteke, principal and founder of Memphis Rise Academy, Scranton Products' Duralife Lockers fit nicely into this vision with a random patterned red, black, and gray color scheme that nicely matches the school's brand. Another valuable benefit is the lockers' two-tier design that not only saves space, but offers surprisingly spacious storage inside.
The school has a carefully-crafted plan for accommodating the educational needs of grades 6 to 12 by 2021. "The building's modern aesthetics are essential in helping students fulfill their goals in an atmosphere committed to excellence, responsibility, and safety," adds Vuylsteke.
"We toured a lot of facilities and everywhere we went the Duralife Lockers seemed to wear especially well," adds Vuylsteke. "Plus, the way they're designed it's almost impossible to slam them shut. Right now, we're thinking 15 years ahead. If everything we've seen holds true, we're expecting them to continue to perform as we graduate the classes of 2030 and beyond."
Scranton Products' Duralife Lockers are made from HDPE and naturally resistant to bacteria, odors, mold and mildew. Their non-porous surface is also very easy to clean, making it easy to wipe off graffiti with most non-abrasive cleaners or remove stickers and contact paper. The lockers can also be power washed and steam cleaned without the worry of rust or corrosion. In addition, Duralife Lockers are NFPA 286 compliant and GREENGUARD Children & Schools CertifiedSM for improved indoor air quality.
About Scranton Products:
For more than 25 years, Scranton Products' premium brands have led the plastic partitions market setting new benchmarks for the industry in quality and innovation. Our well-known brands, including Hiny Hiders®, Resistall™ Tufftec® and Duralife®, feature the most durable, low maintenance and best-looking partitions and locker products in the industry. They won't dent, rust or need painting, and because they have color throughout, delamination is not a factor. Visit http://www.scrantonproducts.com.