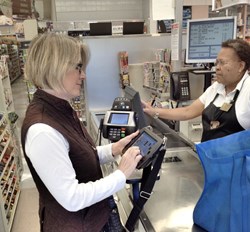 "If you asked me to describe the Speak for Yourself app in one word that would be brilliant," says Mary Kawand, who began using the app herself to learn more about the challenges of the voiceless.
Titusville, New Jersey (PRWEB) October 15, 2013
When Mary Kawand, mother of a voiceless 21 year old daughter, vowed to go "Voiceless but Still Taking," for seven days in early October, her silence was filled with words, phrases and thoughts she tapped out using the Speak for Yourself app on her iPad device.
In her vow to "be silent," she used the app to "speak" at home, at church, and while shopping, lunching or attending the theatre.
"It was a difficult, trying and eye opening week," says Mary who plans to continue her "Voiceless but Still Talking" practice in order to raise awareness of the voiceless, but also her own understanding of the patent pending SfY app. It is the same technology that is credited for giving her 21 year old daughter Jessica recently the ability to say "I love you" for the very first time in her life.
"There's so much to learn about being voiceless, about what other people expect or don't expect. I only wish I would have done this sooner," observes Mary, whose experiences and can be found on the blog at http://www.speakforyourself.org.
However, "sooner" was not possible before 2011, when the app was co-created by Heidi LoStracco, of Bensalem, PA, and Renee Collender, Marlton, NJ, two speech-language pathologists, educators and moms.
"The SfY app is everything that our old larger and much more expensive system was not. It's affordable, user friendly, and grows with the user. No one realized how much language my daughter had until she had the SfY app. I think this is because the language is already there and easy for her to access. No longer do I have to guess at what my daughter wants, she is able to find the words to tell me. If you asked me to describe SfY in one word that would be brilliant," says Mary, who now vows to use SfY herself throughout the year.
"Using the app in public helps me realize more of about what my daughter may be experiencing – the feeling of sometimes being overwhelmed, of not being able to remember a word or a phrase, or of just now wanting to say something at a particular time. Plus, coming to the app later in life, means much catching up to do," adds Mary, who has learned she prefers to use the app in public, rather that with people she already knows.
"I felt like the people that knew me very well were eager to listen and wait for me to speak through SFY. People that I don't know as well, I made them feel awkward. They just didn't know how to respond," observes Mary.
Collender and LoStracco first noticed a need for an app that would better allow for Spontaneous Novel Utterance Generation (or SNUG,) after the release of the iPad. "We began seeing a shift in the market after the iPad release. Most devices on the market were highly frustrating for nonverbal students and parents. It got to a point where someone was asking us about applications for AAC every day, and we decided that we need a better answer," recalls LoStracco.
SfY users have the ability to begin with only one word, and grow to a vocabulary of 14,000 words, with no more than two touches to speak any single word. SfY verbalizes words and phrases for the user, enabling them to use the device to communicate to others, or to form and pronounce words themselves.
Since SfY's launch in December 2011, individuals with a wide range of medical conditions that impede their ability to speak, including autism, brain damage, stroke victims, genetic syndromes, and neurological impairments have miraculously been given a voice, some for the very first time.
SfY offers breakthrough Augmentative Alternative Communication (AAC), and continues to make waves among educators, parents, speech pathologists, physicians, and caregivers of non-verbal children and adults.
Whether their speech is permanently or temporarily impaired, SFY offers the chance for all people to be heard. It is gaining popularity in special education classrooms across the states, including a successful trial at The Gateway School for Hearing and Speech, Baltimore, and the Anaheim Unified School, Anaheim, California. Changing the world, one voice at a time, Speak for Yourself is a patent pending "Two Touch" vocabulary device and developed by speech pathologists Renee Collender, MA, CCC-SLP, and Heidi LoStracco, MS, CCC-SLP. Cost of the app is $199.99. For more information, visit http://www.speakforyourself.org.
LoStracco and Collender are available for interviews, workshops and training sessions, by contacting Tina(at)TinaBradfordpr(dot)com at 610-248-3460, or at speakforyouselfaac(at)Yahoo(dot)com.