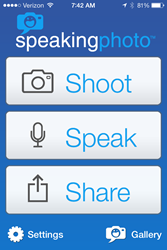 SpeakingPhoto had won me over. It's simple to use, and the audio recording for memorable photos really adds a nice layer of creativity and importance to each shot.
San Francisco, CA (PRWEB) December 06, 2013
The holidays bring families close together. Why not bring them closer with SpeakingPhoto by recording stores over photos to share now and keep for years to come.
Add a special holiday message to a picture and send to family and friends far away.
Get closer to your family by adding fun, witty or personal messages to photos.
Shoot photos of old family photos and solicit stories from love ones.
Elegantly designed, SpeakingPhoto is really easy to use. Simply SHOOT a photo or SPEAK over a photo from your camera roll. Next, SPEAK over the photo. Re-Record as many times as you want. Then, SAVE and SHARE one or a slideshow of several via email, text messaging, Facebook, or YouTube.
SpeakingPhoto is fully iOS7 compatible and now available for free in the App Store.
Please download here: https://itunes.apple.com/us/app/speakingphoto/id485844944.
About SpeakingPhoto
SpeakingPhoto is collaboration by two San Francisco Bay Area women, business veterans and social advocates, Dawn Davis and Diana Iles Parker. Both Davis and Parker share the strong belief in the power of voice and bringing voice to precious memories and causes alike. By putting the emphasis on the storytelling (or voice) and the art of listening, the vision is to use mobile technology to capture life experiences and add dimension to the many photos shared and archived. The result: a kinder and gentler photo app that enhances business, lives and relationships.
SpeakingPhoto is also available in Spanish, Italian, Portuguese, French, German, Japanese and Chinese. Learn more about SpeakingPhoto on Mashable and by visiting http://www.SpeakingPhoto.com.
Find us:
Twitter: @speakingphoto
Facebook: http://www.facebook.com/speakingphoto
Web: http://www.speakingphoto.com
Contact us at info(at)speakingphoto(dot)com.
###