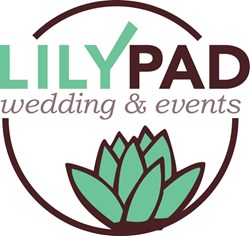 "We have had so much success planning events for individuals, we felt the business community would benefit from our expertise, budgeting ability, and timeline management" Brent Zimmerman, partner
Amherst, NY (PRWEB) August 07, 2013
Effective September 1, 2013, Lilypad Wedding & Events' is expanding their repertoire to include corporate event planning services. Lilypad's aptitude in event planning will allow businesses to focus on more pressing tasks while their event is planned and executed. "We have had so much success planning events for individuals, we felt the business community would benefit from our expertise, budgeting ability and timeline management," said Brent Zimmerman, partner.
Using an event planning service like Lilypad allows the person normally charged with this task to continue their business-critical duties. "Aside from the immense research required just to find a caterer, an employee charged with the task to plan an event may also need to handle venue selection, decorations, emcees, talent, etc. — all while balancing their vital workplace tasks," says Zimmerman.
Lilypad's clients will receive the most value for their celebration budget with exclusive access to their vendor database and years of experience in the field. Full planning services for corporate parties, holidays and the like will include day-of event coordination to make sure the event goes off as planned and all employees can partake in the celebration. Other services they offer include on-call/retainer packages for last minute meetings and special functions as well as custom graphic design. Lilypad Wedding & Events exhibits proven expertise in event planning and coordination. They have successfully executed events with as few as 10 guests, and as many as 250 in some of Buffalo's finest venues (ex. The Lafayette Hotel, Statler City, the Marcey Casino at Delaware Park, The Church, etc.).
They can be contacted by phone at (716) 836-3820, or e-mail and also by visiting their studio at 3963 Main Street, Amherst, N.Y. 14226. Lilypad Wedding & Events is a Buffalo, New York based company, founded by siblings Brent Zimmerman and Bethany Olczak on three principals: Trust, Taste, Ease—and strongly encourage their clients to leave it to them. Or as their motto goes: "Take the leap and land on Lilypad."
About the Company:
Lilypad Wedding & Events is a Buffalo, N.Y. family owned & operated organization. In just over 3 years they have successfully produced and overseen over 20 events. Lilypad is unlike any other event planning company because they are a one-stop shop for all event planning necessities. Lilypad holds multiple certifications to reassure their clients that they are the best and most qualified. Lilypad is an expert in the wedding and event planning field and is now offering corporate event planning services. For more information about Lilypad, visit http://www.lilypadwedding.com.