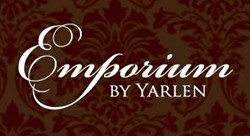 San Antonio, TX (PRWEB) December 04, 2013
The Emporium by Yarlen will host a Private Christmas dinner Friday, Dec. 20.
The dinner allows individuals with disabilities serviced by Lifetime Living, Inc. to enjoy a holiday feast with their families, along with the Emporium staff members. Lifetime Living's mission is to offer the best services to individuals and families in order to meet their personal goals and achieve an excellent quality of life.
The Emporium has been working with Lifetime Living for the past three years. This year's menu will start with a cheese plate appetizer followed by a house salad. The main course will be chicken Florentine with a side of rosemary potatoes and seasoned bacon green beans.
Lifetime Living discovered The Emporium when one of their staff members came to an event hosted by The Emporium. After working together for the first time, Lifetime Living was so satisfied with the services The Emporium provided them with and have been working with them ever since.
The Emporium is a special events venue that resulted from the dream of Yaramin Cavazos and her mother Patricia. Since The Emporium is family-owned, the Cavazos' ensure that each client is 100 percent satisfied with the hosting of their special event. Their entire staff is committed to serving clients. Each detail of a wedding reception, birthday or anniversary party, or work event is important to them and their goal is to deliver above and beyond the client's expectations.
The Emporium by Yarlen is located at 2218 E. Chavaneaux Road in San Antonio. For more information, visit their website at http://www.emporiumbyyarlen.com, or call 210-627-9800.
About the Company:
The Emporium by Yarlen Banquet & Special Event Center has exactly what's needed to make an event a huge success. With two stunning ballrooms that can seat up to 600, an all-inclusive event center, and free ample parking, The Emporium by Yarlen Banquet & Special Event Center is able to take visions and make them reality.